Decription
The inner dancer in me was always disappointed that my mom never got me the music box with a ballerina in it. For this assignment, I created one for myself, however it stands on a panel and rotates around itself, if the button is pressed.
Materials used
Foam (yes, again!)
Hot glue
Ballerina cutout + wooden stick
Wires
DC motor
Transistor
Pushbutton
10 K resistor
Redboard
Breadboard
Issues
The code was fairly simple and I learnt the on/off button code which I had not used before. Up until the basic hardware, it also worked fine, as the motor was rotating when it was supposed to, etc.
The issues arose, when I had to build the prototype itself – apparently the foam and cutout were too heavy for the motor, so the ballerina kept flying away. At one point, it became extremely frustrating, because there was no way I could explain it as a "feature", not a "bug". Fortunately, James from the IM lab helped me out with a different motor than the one of our kits. It was still a bit tilted because it was not entirely stable, but at least it gave a good idea of what it was supposed to do.
Schematic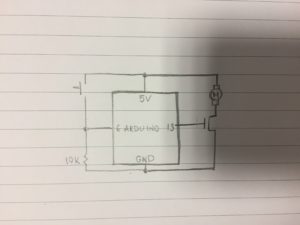 Code
1

2

3

4

5

6

7

8

9

10

11

12

13

14

15

16

17

18

19

20

21

22

23

24

25

26

27

28

29

30

31

32

33

34

35

36

37

38

39

/* for the on/off button code, I used tutorial for switch from Arduino main website

* https://www.arduino.cc/en/tutorial/switch

int

inPin

=

6

;

// the pin number of button

int

outPin

=

13

;

// the pin number of motor

int

state

=

HIGH

;

// current state of motor

int

reading

;

// the current reading of button pin

int

previous

=

LOW

;

// the previous reading of button pin

//the following variables are long because they store time in milliseconds

long

time

=

0

;

// the last time the output pin was toggled

long

debounce

=

200

;

// the debounce time

pinMode

(

inPin

,

INPUT

)

;

//initialize the button as input

pinMode

(

outPin

,

OUTPUT

)

;

//initialize the motor as output

reading

=

digitalRead

(

inPin

)

;

//read the state of the button

if

(

reading

==

HIGH

&&

previous

==

LOW

&&

millis

(

)

-

time

>

debounce

)

{

//if the button was pressed once and was not pressed in previous reading + debounce period

if

(

state

==

135

)

{

//if the motor is running before button is pressed

state

=

LOW

;

//motor state becomes low

state

=

135

;

//motor state becomes high

time

=

millis

(

)

;

//time is now the milliseconds that have gone by

analogWrite

(

outPin

,

state

)

;

//turn motor on or off, based on conditions above

previous

=

reading

;

//the reading of button is now the previous reading