Assignment 9: Whimsical Project – Don't Touch the Wire Game
Whimsical – playfully quaint or fanciful, especially in an appealing and amusing way. (Google dictionary)
This project was more about thinking than executing the thought. Coming up with a whimsical project required some research and more inspiration. Like many others, I also watched YouTube clips and glanced through project websites. However, for me, I felt like this whimsical project was intended to follow my instincts. And so, I thought about what I find amusing and appealing, and decided to create this "Don't Touch the Wire Game."
It is a pretty simple game and I used the red LED light and the piezo buzzer to signify a warning, when the movable wire touches the the actual wire. The code is simple so the hardware part was more time consuming. I used the soldering technique, which we learned briefly in class but this was the first time for me to have a hands-on experience. I also used the heat gun to melt the rubber covering to cover up the naked wire of parts where people would hold it so that it would be more user-friendly.
Materials:
1 red board
1 bread board
1 of 330K resistor
1 red LED
1 piezo buzzer
2 wires
Metal wires
Rubber cover
Schematic: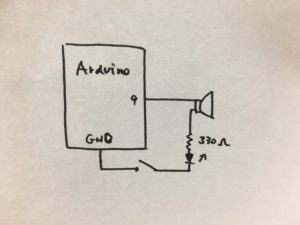 Code:
// put your setup code here, to run once:

pinMode

(

buzzerPin

,

OUTPUT

)

;

// put your main code here, to run repeatedly:

tone

(

buzzerPin

,

2000

,

100

)

;
Video:
About other projects:
I reviewed Taylor's and Natalie's whimsical project. Taylor's was inspired by a quote on Instagram and so her project was a rumba (cleaning robot) that had a moving knife. Since both the rumba itself and the knife are black, its appearance is quite creepy and scary. Moreover, when it begins moving, it moves randomly, so it seems to go anywhere. Natalie's was powered by a battery – probably the only one in class. Her's was a trap that closed its doors when you held the clip together. She also did not use an Arduino but the trap door closed simply when the circuit was closed and the motor that was used to close the door ran.