Final Project Documentation
AURORA BOREALIS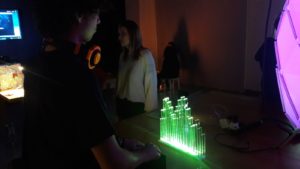 When I was brainstorming ideas for our space theme, I thought about aurora borealis (also known as northern lights) which is a natural light display in the sky found in Arctic and Antarctic regions. It has always been a dream of mine to see one. I was inspired by this acryl + neopixels crown project that James showed on his neopixels workshop, and it made me think about how light from the colourful LEDs could disperse through transparent acrylic parts that would copy the wavy shape of aurora.
My project is an art installation imitating a beautiful nature phenomenon that also engages people to interact with it by controlling certain values to play around with the overall look of the installation. 
(Note: since I couldn't attend the IM show, videos included in the post were filmed while still working on the project and do not show its final look)
It was a true joy to work on it and combine what I've learned in this class to design and create something that would not only look good, but also involves user interaction.
The final design looks quite simple and minimalistic. Its affordances are clear, as the control box has only two knobs on top that encourage people to twist them and then see what happens.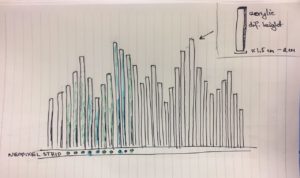 MOST DIFFICULT PARTS OF THE PROJECT:
Creating the colour patterns;

Gluing parts and calculating correct measurements (even including the weight);

Attaching potentiometers with a box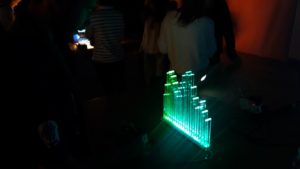 Materials & Construction: Physical, Electronic and Mechanical Components.
The physical installation consists of the "Aurora" and box with with potentiometers hiding the Arduino. Components:
1 Adafruit neopixel strip (20 pixels);

1 transparent acrylic sheet (cut in 20 pieces);

acrylic base;

1 Arduino;

acrylic box;

external power supply;

2 potentiometers (10k ohm) and knobs.
PART 1: Aurora Borealis
I have used the laser cutter to make 20 thin rectangles of different length (varying from 14 cm to 31 cm long). I chose transparent acrylic (3-6 mm thick)  to create the light dispersion effect that I was initially aiming for. I was happy with the range of length they had. The difference made the colour sequence look more dynamic, and I don't think I had to make the rectangles even longer. First, taller parts are trickier to attach to the base. Second, since the entire look of my project depends on the overall lightning in the display room, taller acrylic pieces do not light up as much when the room is bright.However, in 006, it was pretty dark, so the pieces fully lit up and I was satisfied with the way my project looked.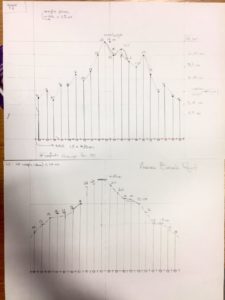 My Aurora is standing on white acrylic base that has a "pit" line in the middle to create space for the neopixel string, which has 20 pixels, between the base and the rectangles attached above with super glue. This construction gave some mobility for the string to be taken out whenever I want, while I was playing around with code and would carry the string around with me. I took off paper. Eventually,  on the back of the neopixel string to stick it to the base to avoid it being misplaced by someone during the show.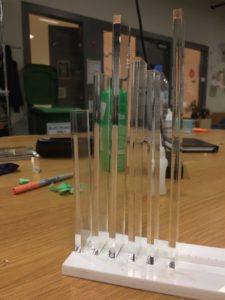 Knowing what I know now, I would probably do the construction in a slightly different way. I saw Tayla using matte acrylic, which I think would also look cool with my project and maybe it would have recreated the northern lights effect even better. Also, I would make my acrylic pieces wider to be glued easier to the base (yet it could change the light dispersion effect just like the length does). Alternatively, I should have cut out rectangular "holes" for the strip on the rectangles themselves.
I was actually going to make the installation bigger by attaching another similar block with 10 more rectangles to have 30 rectangles and neopixels in total, but I gave up on the idea once Michael suggested to simplify our project in order to save time.
PART 2: Control Box
I have used this website http://www.makercase.com to create the template for my box that would hide the Arduino, breadboard etc. and would have two potentiometer on top to control brightness and speed of my colour sequence. The box also has two holes on the sides for the USB cord and wires that connect the neopixels strip.
To be honest, I made wrong measurements for my first box, because I did not take the thickness of acrylic into account. The second box had holes too small to attach potentiometers without them moving along with the knobs. Michael suggested I should add an extra rectangular hole for a tiny "stabiliser" that those potentiometer have that prevent them from moving around. I've also made the round holes one 1 mm bigger. (Lesson learnt: size matters! Even 1 mm can make a huge difference.) In the end, I did not have to re-cut the entire box, only the top part.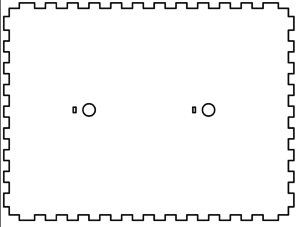 Also, I wish we had more white acrylic left, because I had to make my box black, which was an out-of-place colour contrast with the base of Aurora. In general, I am pleased with the way it looks – a nice way to hide messy wires and so on.
What is more, my strip is using an external 5v power supply, so it's not using a laptop, but is directly connected to the power socket.
Schematic: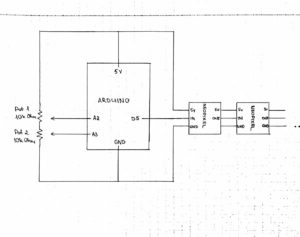 Software:
My code has undergone hundreds of changes as I was playing around with the colour sequence. I started out with Adafruit Neopixel Library's simple codes to understand how the strip works and tried to customise those code for the effect that I was going for. I wanted my aurora to gradually change colors, fading and fading out. Also, the challenge was to use a small colour range of mostly green and some blue, yellow etc., because aurora borealis' colour actually depends on many factors such as latitude and altitude, but it is mostly green in general. For this reason, sample codes were not that helpful as they are too fast-bright-disco-rainbow. 
Later, May showed me this cool website https://hohmbody.com/flickerstrip/lightwork/?id=1042#  that let's you draw the pattern you want and it generates the code for you. It was fun to play around with, but I felt like it's wrong to not write my own code, because I wanted to use what I've learnt in this class. However, it took me a long time to figure out what I need to do with the code for it to look  like what I imagined it to be, until James gave me the best advice ever: start over and write the code yourself from scratch. And it worked!
The code is basically a bunch of for-loops that change colour values for certain pixels. While I was creating it, I tried to sketch out the sequence, because it's difficult to visualize colours from numbers on the screen.
What I'd like to learn: is there a way to make the code not as long and repetitive. 
1

2

3

4

5

6

7

8

9

10

11

12

13

14

15

16

17

18

19

20

21

22

23

24

25

26

27

28

29

30

31

32

33

34

35

36

37

38

39

40

41

42

43

44

45

46

47

48

49

50

51

52

53

54

55

56

57

58

59

60

61

62

63

64

65

66

67

68

69

70

71

72

73

74

75

76

77

78

79

80

81

82

83

84

85

86

87

88

89

90

91

92

93

94

95

96

97

98

99

100

101

102

103

104

105

106

107

108

109

110

111

112

113

114

115

116

117

118

119

120

121

122

123

124

125

126

127

128

129

130

131

132

133

134

135

136

137

138

139

140

141

142

143

144

145

146

147

148

149

150

151

152

153

154

155

156

157

158

159

160

161

162

163

164

165

166

167

168

169

170

171

172

173

174

175

176

177

178

179

180

181

182

183

184

185

186

187

188

189

190

191

192

193

194

195

196

197

198

199

200

201

202

203

204

205

206

207

208

209

210

211

212

213

214

215

216

217

218

219

220

221

222

223

224

225

226

227

228

229

230

231

232

233

234

235

236

237

238

239

240

241

242

243

244

245

246

247

248

249

250

251

252

253

254

255

256

257

258

259

260

261

262

263

264

265

266

267

268

269

270

271

272

273

274

275

276

277

278

279

280

281

282

283

284

285

286

287

288

289

290

291

292

293

294

295

296

297

298

299

300

301

302

303

304

305

306

307

308

309

310

311

312

313

314

315

316

317

318

319

320

321

322

323

324

325

326

327

328

329

330

331

332

333

334

335

336

337

338

339

340

341

342

343

344

345

346

347

348

349

350

351

352

353

354

355

356

357

358

359

360

361

362

363

364

365

366

367

368

369

370

371

372

373

374

375

376

377

378

379

380

381

382

383

384

385

386

387

388

389

390

391

392

393

394

395

396

397

398

399

400

401

402

403

404

405

406

407

408

409

410

411

412

413

414

415

416

417

418

419

420

421

422

423

424

425

426

427

428

429

430

431

432

433

434

435

436

437

438

439

440

441

442

443

444

445

446

447

448

449

450

451

452

453

454

455

456

457

458

459

460

461

462

463

464

465

466

467

468

469

470

471

472

473

474

475

476

477

478

479

480

481

482

483

484

485

486

487

488

489

490

491

492

493

494

495

496

497

498

499

500

501

502

503

504

505

506

507

508

509

510

511

512

513

514

515

516

517

518

519

520

521

522

523

524

525

526

527

528

529

530

531

532

533

534

535

536

537

538

539

540

541

542

543

544

545

546

547

548

549

550

551

552

553

554

555

556

557

558

559

560

561

562

563

564

565

566

567

568

569

570

571

572

573

574

575

#include <Adafruit_NeoPixel.h>

int

pot1

=

A2

;

// initialize a pin for brightness potentiometer

int

pot2

=

A3

;

// initialize a pin for frames per second potentiometer

int

fps

;

// frames per second

Adafruit

_

NeoPixel

strip

=

Adafruit_NeoPixel

(

COUNT

,

PIN

,

NEO_GRB

+

NEO_KHZ800

)

;

brightness

=

map

(

analogRead

(

pot1

)

,

0

,

1023

,

10

,

255

)

;

strip

.

setBrightness

(

brightness

)

;

// fps = map(analogRead(pot2), 0, 1023, 1, 40);

for

(

int

i

=

0

;

i

<

10

;

i

++

)

{

brightness

=

map

(

analogRead

(

pot1

)

,

0

,

1023

,

10

,

255

)

;

strip

.

setBrightness

(

brightness

)

;

strip

.

setPixelColor

(

i

,

strip

.

Color

(

0

,

150

,

0

)

)

;

delayval

=

map

(

analogRead

(

pot2

)

,

0

,

1023

,

50

,

1000

)

;

for

(

int

i

=

10

;

i

<

20

;

i

++

)

{

brightness

=

map

(

analogRead

(

pot1

)

,

0

,

1023

,

10

,

255

)

;

strip

.

setBrightness

(

brightness

)

;

strip

.

setPixelColor

(

i

,

strip

.

Color

(

0

,

250

,

100

)

)

;

delayval

=

map

(

analogRead

(

pot2

)

,

0

,

1023

,

50

,

1000

)

;

for

(

int

i

=

0

;

i

<

10

;

i

++

)

{

brightness

=

map

(

analogRead

(

pot1

)

,

0

,

1023

,

10

,

255

)

;

strip

.

setBrightness

(

brightness

)

;

strip

.

setPixelColor

(

i

,

strip

.

Color

(

0

,

150

,

20

)

)

;

delayval

=

map

(

analogRead

(

pot2

)

,

0

,

1023

,

50

,

1000

)

;

for

(

int

i

=

10

;

i

<

17

;

i

++

)

{

brightness

=

map

(

analogRead

(

pot1

)

,

0

,

1023

,

10

,

255

)

;

strip

.

setBrightness

(

brightness

)

;

strip

.

setPixelColor

(

i

,

strip

.

Color

(

0

,

230

,

70

)

)

;

delayval

=

map

(

analogRead

(

pot2

)

,

0

,

1023

,

50

,

1000

)

;

for

(

int

i

=

0

;

i

<

13

;

i

++

)

{

brightness

=

map

(

analogRead

(

pot1

)

,

0

,

1023

,

10

,

255

)

;

strip

.

setBrightness

(

brightness

)

;

strip

.

setPixelColor

(

i

,

strip

.

Color

(

0

,

190

,

30

)

)

;

delayval

=

map

(

analogRead

(

pot2

)

,

0

,

1023

,

50

,

1000

)

;

for

(

int

i

=

9

;

i

<

20

;

i

++

)

{

brightness

=

map

(

analogRead

(

pot1

)

,

0

,

1023

,

10

,

255

)

;

strip

.

setBrightness

(

brightness

)

;

strip

.

setPixelColor

(

i

,

strip

.

Color

(

0

,

0

,

0

)

)

;

delayval

=

map

(

analogRead

(

pot2

)

,

0

,

1023

,

50

,

1000

)

;

for

(

int

i

=

5

;

i

<

20

;

i

++

)

{

brightness

=

map

(

analogRead

(

pot1

)

,

0

,

1023

,

10

,

255

)

;

strip

.

setBrightness

(

brightness

)

;

strip

.

setPixelColor

(

i

,

strip

.

Color

(

20

,

180

,

0

)

)

;

delayval

=

map

(

analogRead

(

pot2

)

,

0

,

1023

,

50

,

1000

)

;

for

(

int

i

=

10

;

i

<

20

;

i

++

)

{

brightness

=

map

(

analogRead

(

pot1

)

,

0

,

1023

,

10

,

255

)

;

strip

.

setBrightness

(

brightness

)

;

strip

.

setPixelColor

(

i

,

strip

.

Color

(

0

,

255

,

0

)

)

;

delayval

=

map

(

analogRead

(

pot2

)

,

0

,

1023

,

50

,

1000

)

;

for

(

int

i

=

0

;

i

<

10

;

i

++

)

{

brightness

=

map

(

analogRead

(

pot1

)

,

0

,

1023

,

10

,

255

)

;

strip

.

setBrightness

(

brightness

)

;

strip

.

setPixelColor

(

i

,

strip

.

Color

(

0

,

180

,

30

)

)

;

delayval

=

map

(

analogRead

(

pot2

)

,

0

,

1023

,

50

,

1000

)

;

for

(

int

i

=

5

;

i

<

10

;

i

++

)

{

brightness

=

map

(

analogRead

(

pot1

)

,

0

,

1023

,

10

,

255

)

;

strip

.

setBrightness

(

brightness

)

;

strip

.

setPixelColor

(

i

,

strip

.

Color

(

0

,

0

,

0

)

)

;

delayval

=

map

(

analogRead

(

pot2

)

,

0

,

1023

,

50

,

1000

)

;

for

(

int

i

=

5

;

i

<

17

;

i

++

)

{

brightness

=

map

(

analogRead

(

pot1

)

,

0

,

1023

,

10

,

255

)

;

strip

.

setBrightness

(

brightness

)

;

strip

.

setPixelColor

(

i

,

strip

.

Color

(

60

,

255

,

0

)

)

;

delayval

=

map

(

analogRead

(

pot2

)

,

0

,

1023

,

50

,

1000

)

;

for

(

int

i

=

0

;

i

<

17

;

i

++

)

{

brightness

=

map

(

analogRead

(

pot1

)

,

0

,

1023

,

10

,

255

)

;

strip

.

setBrightness

(

brightness

)

;

strip

.

setPixelColor

(

i

,

strip

.

Color

(

60

,

230

,

0

)

)

;

delayval

=

map

(

analogRead

(

pot2

)

,

0

,

1023

,

50

,

1000

)

;

for

(

int

i

=

0

;

i

<

4

;

i

++

)

{

brightness

=

map

(

analogRead

(

pot1

)

,

0

,

1023

,

10

,

255

)

;

strip

.

setBrightness

(

brightness

)

;

strip

.

setPixelColor

(

i

,

strip

.

Color

(

50

,

200

,

0

)

)

;

delayval

=

map

(

analogRead

(

pot2

)

,

0

,

1023

,

50

,

1000

)

;

for

(

int

i

=

12

;

i

<

20

;

i

++

)

{

brightness

=

map

(

analogRead

(

pot1

)

,

0

,

1023

,

10

,

255

)

;

strip

.

setBrightness

(

brightness

)

;

strip

.

setPixelColor

(

i

,

strip

.

Color

(

50

,

200

,

0

)

)

;

delayval

=

map

(

analogRead

(

pot2

)

,

0

,

1023

,

50

,

1000

)

;

for

(

int

i

=

5

;

i

<

12

;

i

++

)

{

brightness

=

map

(

analogRead

(

pot1

)

,

0

,

1023

,

10

,

255

)

;

strip

.

setBrightness

(

brightness

)

;

strip

.

setPixelColor

(

i

,

strip

.

Color

(

0

,

255

,

70

)

)

;

delayval

=

map

(

analogRead

(

pot2

)

,

0

,

1023

,

50

,

1000

)

;

for

(

int

i

=

5

;

i

<

12

;

i

++

)

{

brightness

=

map

(

analogRead

(

pot1

)

,

0

,

1023

,

10

,

255

)

;

strip

.

setBrightness

(

brightness

)

;

strip

.

setPixelColor

(

i

,

strip

.

Color

(

0

,

200

,

50

)

)

;

delayval

=

map

(

analogRead

(

pot2

)

,

0

,

1023

,

50

,

1000

)

;

for

(

int

i

=

5

;

i

<

12

;

i

++

)

{

brightness

=

map

(

analogRead

(

pot1

)

,

0

,

1023

,

10

,

255

)

;

strip

.

setBrightness

(

brightness

)

;

strip

.

setPixelColor

(

i

,

strip

.

Color

(

0

,

163

,

43

)

)

;

delayval

=

map

(

analogRead

(

pot2

)

,

0

,

1023

,

50

,

1000

)

;

for

(

int

i

=

0

;

i

<

20

;

i

++

)

{

brightness

=

map

(

analogRead

(

pot1

)

,

0

,

1023

,

10

,

255

)

;

strip

.

setBrightness

(

brightness

)

;

strip

.

setPixelColor

(

i

,

strip

.

Color

(

0

,

180

,

90

)

)

;

delayval

=

map

(

analogRead

(

pot2

)

,

0

,

1023

,

50

,

1000

)

;

for

(

int

i

=

0

;

i

<

20

;

i

++

)

{

brightness

=

map

(

analogRead

(

pot1

)

,

0

,

1023

,

10

,

255

)

;

strip

.

setBrightness

(

brightness

)

;

strip

.

setPixelColor

(

i

,

strip

.

Color

(

0

,

210

,

105

)

)

;

delayval

=

map

(

analogRead

(

pot2

)

,

0

,

1023

,

50

,

1000

)

;

for

(

int

i

=

0

;

i

<

20

;

i

++

)

{

brightness

=

map

(

analogRead

(

pot1

)

,

0

,

1023

,

10

,

255

)

;

strip

.

setBrightness

(

brightness

)

;

strip

.

setPixelColor

(

i

,

strip

.

Color

(

0

,

255

,

125

)

)

;

delayval

=

map

(

analogRead

(

pot2

)

,

0

,

1023

,

50

,

1000

)

;

for

(

int

i

=

8

;

i

<

20

;

i

++

)

{

brightness

=

map

(

analogRead

(

pot1

)

,

0

,

1023

,

10

,

255

)

;

strip

.

setBrightness

(

brightness

)

;

strip

.

setPixelColor

(

i

,

strip

.

Color

(

200

,

255

,

0

)

)

;

delayval

=

map

(

analogRead

(

pot2

)

,

0

,

1023

,

50

,

1000

)

;

for

(

int

i

=

0

;

i

<

8

;

i

++

)

{

brightness

=

map

(

analogRead

(

pot1

)

,

0

,

1023

,

10

,

255

)

;

strip

.

setBrightness

(

brightness

)

;

strip

.

setPixelColor

(

i

,

strip

.

Color

(

130

,

255

,

0

)

)

;

delayval

=

map

(

analogRead

(

pot2

)

,

0

,

1023

,

50

,

1000

)

;

for

(

int

i

=

0

;

i

<

20

;

i

++

)

{

brightness

=

map

(

analogRead

(

pot1

)

,

0

,

1023

,

10

,

255

)

;

strip

.

setBrightness

(

brightness

)

;

strip

.

setPixelColor

(

i

,

strip

.

Color

(

130

,

255

,

0

)

)

;

delayval

=

map

(

analogRead

(

pot2

)

,

0

,

1023

,

50

,

1000

)

;

for

(

int

i

=

0

;

i

<

8

;

i

++

)

{

brightness

=

map

(

analogRead

(

pot1

)

,

0

,

1023

,

10

,

255

)

;

strip

.

setBrightness

(

brightness

)

;

strip

.

setPixelColor

(

i

,

strip

.

Color

(

0

,

0

,

0

)

)

;

delayval

=

map

(

analogRead

(

pot2

)

,

0

,

1023

,

50

,

1000

)

;

for

(

int

i

=

0

;

i

<

8

;

i

++

)

{

brightness

=

map

(

analogRead

(

pot1

)

,

0

,

1023

,

10

,

255

)

;

strip

.

setBrightness

(

brightness

)

;

strip

.

setPixelColor

(

i

,

strip

.

Color

(

0

,

0

,

0

)

)

;

delayval

=

map

(

analogRead

(

pot2

)

,

0

,

1023

,

50

,

1000

)

;

}

for

(

int

i

=

13

;

i

<

20

;

i

++

)

{

brightness

=

map

(

analogRead

(

pot1

)

,

0

,

1023

,

10

,

255

)

;

strip

.

setBrightness

(

brightness

)

;

strip

.

setPixelColor

(

i

,

strip

.

Color

(

0

,

0

,

0

)

)

;

delayval

=

map

(

analogRead

(

pot2

)

,

0

,

1023

,

50

,

1000

)

;

for

(

int

i

=

0

;

i

<

8

;

i

++

)

{

brightness

=

map

(

analogRead

(

pot1

)

,

0

,

1023

,

10

,

255

)

;

strip

.

setBrightness

(

brightness

)

;

strip

.

setPixelColor

(

i

,

strip

.

Color

(

0

,

0

,

0

)

)

;

delayval

=

map

(

analogRead

(

pot2

)

,

0

,

1023

,

50

,

1000

)

;

}

for

(

int

i

=

3

;

i

<

15

;

i

++

)

{

brightness

=

map

(

analogRead

(

pot1

)

,

0

,

1023

,

10

,

255

)

;

strip

.

setBrightness

(

brightness

)

;

strip

.

setPixelColor

(

i

,

strip

.

Color

(

0

,

163

,

43

)

)

;

delayval

=

map

(

analogRead

(

pot2

)

,

0

,

1023

,

50

,

1000

)

;

for

(

int

i

=

5

;

i

<

12

;

i

++

)

{

brightness

=

map

(

analogRead

(

pot1

)

,

0

,

1023

,

10

,

255

)

;

strip

.

setBrightness

(

brightness

)

;

strip

.

setPixelColor

(

i

,

strip

.

Color

(

0

,

200

,

50

)

)

;

delayval

=

map

(

analogRead

(

pot2

)

,

0

,

1023

,

50

,

1000

)

;

for

(

int

i

=

7

;

i

<

10

;

i

++

)

{

brightness

=

map

(

analogRead

(

pot1

)

,

0

,

1023

,

10

,

255

)

;

strip

.

setBrightness

(

brightness

)

;

strip

.

setPixelColor

(

i

,

strip

.

Color

(

0

,

255

,

70

)

)

;

delayval

=

map

(

analogRead

(

pot2

)

,

0

,

1023

,

50

,

1000

)

;

for

(

int

i

=

7

;

i

<

10

;

i

++

)

{

brightness

=

map

(

analogRead

(

pot1

)

,

0

,

1023

,

10

,

255

)

;

strip

.

setBrightness

(

brightness

)

;

strip

.

setPixelColor

(

i

,

strip

.

Color

(

0

,

255

,

70

)

)

;

delayval

=

map

(

analogRead

(

pot2

)

,

0

,

1023

,

50

,

1000

)

;

for

(

int

i

=

0

;

i

<

20

;

i

++

)

{

brightness

=

map

(

analogRead

(

pot1

)

,

0

,

1023

,

10

,

255

)

;

strip

.

setBrightness

(

brightness

)

;

strip

.

setPixelColor

(

i

,

strip

.

Color

(

0

,

255

,

125

)

)

;

delayval

=

map

(

analogRead

(

pot2

)

,

0

,

1023

,

50

,

1000

)

;

for

(

int

i

=

0

;

i

<

20

;

i

++

)

{

brightness

=

map

(

analogRead

(

pot1

)

,

0

,

1023

,

10

,

255

)

;

strip

.

setBrightness

(

brightness

)

;

strip

.

setPixelColor

(

i

,

strip

.

Color

(

0

,

255

,

125

)

)

;

delayval

=

map

(

analogRead

(

pot2

)

,

0

,

1023

,

50

,

1000

)

;

for

(

int

i

=

10

;

i

<

20

;

i

++

)

{

brightness

=

map

(

analogRead

(

pot1

)

,

0

,

1023

,

10

,

255

)

;

strip

.

setBrightness

(

brightness

)

;

strip

.

setPixelColor

(

i

,

strip

.

Color

(

160

,

255

,

0

)

)

;

delayval

=

map

(

analogRead

(

pot2

)

,

0

,

1023

,

50

,

1000

)

;

for

(

int

i

=

0

;

i

<

10

;

i

++

)

{

brightness

=

map

(

analogRead

(

pot1

)

,

0

,

1023

,

10

,

255

)

;

strip

.

setBrightness

(

brightness

)

;

strip

.

setPixelColor

(

i

,

strip

.

Color

(

0

,

0

,

0

)

)

;

delayval

=

map

(

analogRead

(

pot2

)

,

0

,

1023

,

50

,

1000

)

;

for

(

int

i

=

7

;

i

<

14

;

i

++

)

{

brightness

=

map

(

analogRead

(

pot1

)

,

0

,

1023

,

10

,

255

)

;

strip

.

setBrightness

(

brightness

)

;

strip

.

setPixelColor

(

i

,

strip

.

Color

(

130

,

255

,

35

)

)

;

delayval

=

map

(

analogRead

(

pot2

)

,

0

,

1023

,

50

,

1000

)

;

for

(

int

i

=

0

;

i

<

10

;

i

++

)

{

brightness

=

map

(

analogRead

(

pot1

)

,

0

,

1023

,

10

,

255

)

;

strip

.

setBrightness

(

brightness

)

;

strip

.

setPixelColor

(

i

,

strip

.

Color

(

255

,

160

,

10

)

)

;

delayval

=

map

(

analogRead

(

pot2

)

,

0

,

1023

,

50

,

1000

)

;

for

(

int

i

=

0

;

i

<

5

;

i

++

)

{

brightness

=

map

(

analogRead

(

pot1

)

,

0

,

1023

,

10

,

255

)

;

strip

.

setBrightness

(

brightness

)

;

strip

.

setPixelColor

(

i

,

strip

.

Color

(

10

,

255

,

120

)

)

;

delayval

=

map

(

analogRead

(

pot2

)

,

0

,

1023

,

50

,

1000

)

;

for

(

int

i

=

15

;

i

<

20

;

i

++

)

{

brightness

=

map

(

analogRead

(

pot1

)

,

0

,

1023

,

10

,

255

)

;

strip

.

setBrightness

(

brightness

)

;

strip

.

setPixelColor

(

i

,

strip

.

Color

(

100

,

0

,

255

)

)

;

delayval

=

map

(

analogRead

(

pot2

)

,

0

,

1023

,

50

,

1000

)

;

for

(

int

i

=

15

;

i

<

20

;

i

++

)

{

brightness

=

map

(

analogRead

(

pot1

)

,

0

,

1023

,

10

,

255

)

;

strip

.

setBrightness

(

brightness

)

;

strip

.

setPixelColor

(

i

,

strip

.

Color

(

0

,

135

,

255

)

)

;

delayval

=

map

(

analogRead

(

pot2

)

,

0

,

1023

,

50

,

1000

)

;

for

(

int

i

=

0

;

i

<

8

;

i

++

)

{

brightness

=

map

(

analogRead

(

pot1

)

,

0

,

1023

,

10

,

255

)

;

strip

.

setBrightness

(

brightness

)

;

strip

.

setPixelColor

(

i

,

strip

.

Color

(

0

,

255

,

155

)

)

;

delayval

=

map

(

analogRead

(

pot2

)

,

0

,

1023

,

50

,

1000

)

;

for

(

int

i

=

13

;

i

<

20

;

i

++

)

{

brightness

=

map

(

analogRead

(

pot1

)

,

0

,

1023

,

10

,

255

)

;

strip

.

setBrightness

(

brightness

)

;

strip

.

setPixelColor

(

i

,

strip

.

Color

(

0

,

0

,

0

)

)

;

delayval

=

map

(

analogRead

(

pot2

)

,

0

,

1023

,

50

,

1000

)

;

for

(

int

i

=

0

;

i

<

6

;

i

++

)

{

brightness

=

map

(

analogRead

(

pot1

)

,

0

,

1023

,

10

,

255

)

;

strip

.

setBrightness

(

brightness

)

;

strip

.

setPixelColor

(

i

,

strip

.

Color

(

0

,

0

,

0

)

)

;

delayval

=

map

(

analogRead

(

pot2

)

,

0

,

1023

,

50

,

1000

)

;

for

(

int

i

=

0

;

i

<

13

;

i

++

)

{

brightness

=

map

(

analogRead

(

pot1

)

,

0

,

1023

,

10

,

255

)

;

strip

.

setBrightness

(

brightness

)

;

strip

.

setPixelColor

(

i

,

strip

.

Color

(

70

,

255

,

0

)

)

;

delayval

=

map

(

analogRead

(

pot2

)

,

0

,

1023

,

50

,

1000

)

;

for

(

int

i

=

0

;

i

<

20

;

i

++

)

{

brightness

=

map

(

analogRead

(

pot1

)

,

0

,

1023

,

10

,

255

)

;

strip

.

setBrightness

(

brightness

)

;

strip

.

setPixelColor

(

i

,

strip

.

Color

(

55

,

200

,

0

)

)

;

delayval

=

map

(

analogRead

(

pot2

)

,

0

,

1023

,

50

,

1000

)

;

for

(

int

i

=

0

;

i

<

7

;

i

++

)

{

brightness

=

map

(

analogRead

(

pot1

)

,

0

,

1023

,

10

,

255

)

;

strip

.

setBrightness

(

brightness

)

;

strip

.

setPixelColor

(

i

,

strip

.

Color

(

35

,

130

,

0

)

)

;

delayval

=

map

(

analogRead

(

pot2

)

,

0

,

1023

,

50

,

1000

)

;

for

(

int

i

=

13

;

i

<

20

;

i

++

)

{

brightness

=

map

(

analogRead

(

pot1

)

,

0

,

1023

,

10

,

255

)

;

strip

.

setBrightness

(

brightness

)

;

strip

.

setPixelColor

(

i

,

strip

.

Color

(

22

,

80

,

0

)

)

;

delayval

=

map

(

analogRead

(

pot2

)

,

0

,

1023

,

50

,

1000

)

;

for

(

int

i

=

0

;

i

<

10

;

i

++

)

{

brightness

=

map

(

analogRead

(

pot1

)

,

0

,

1023

,

10

,

255

)

;

strip

.

setBrightness

(

brightness

)

;

strip

.

setPixelColor

(

i

,

strip

.

Color

(

145

,

0

,

140

)

)

;

delayval

=

map

(

analogRead

(

pot2

)

,

0

,

1023

,

50

,

1000

)

;

for

(

int

i

=

10

;

i

<

20

;

i

++

)

{

brightness

=

map

(

analogRead

(

pot1

)

,

0

,

1023

,

10

,

255

)

;

strip

.

setBrightness

(

brightness

)

;

strip

.

setPixelColor

(

i

,

strip

.

Color

(

0

,

25

,

145

)

)

;

delayval

=

map

(

analogRead

(

pot2

)

,

0

,

1023

,

50

,

1000

)

;

for

(

int

i

=

0

;

i

<

5

;

i

++

)

{

brightness

=

map

(

analogRead

(

pot1

)

,

0

,

1023

,

10

,

255

)

;

strip

.

setBrightness

(

brightness

)

;

strip

.

setPixelColor

(

i

,

strip

.

Color

(

105

,

255

,

45

)

)

;

delayval

=

map

(

analogRead

(

pot2

)

,

0

,

1023

,

50

,

1000

)

;

for

(

int

i

=

5

;

i

<

10

;

i

++

)

{

brightness

=

map

(

analogRead

(

pot1

)

,

0

,

1023

,

10

,

255

)

;

strip

.

setBrightness

(

brightness

)

;

strip

.

setPixelColor

(

i

,

strip

.

Color

(

185

,

255

,

45

)

)

;

delayval

=

map

(

analogRead

(

pot2

)

,

0

,

1023

,

50

,

1000

)

;

for

(

int

i

=

10

;

i

<

15

;

i

++

)

{

brightness

=

map

(

analogRead

(

pot1

)

,

0

,

1023

,

10

,

255

)

;

strip

.

setBrightness

(

brightness

)

;

strip

.

setPixelColor

(

i

,

strip

.

Color

(

45

,

255

,

130

)

)

;

delayval

=

map

(

analogRead

(

pot2

)

,

0

,

1023

,

50

,

1000

)

;

for

(

int

i

=

15

;

i

<

20

;

i

++

)

{

brightness

=

map

(

analogRead

(

pot1

)

,

0

,

1023

,

10

,

255

)

;

strip

.

setBrightness

(

brightness

)

;

strip

.

setPixelColor

(

i

,

strip

.

Color

(

50

,

255

,

45

)

)

;

delayval

=

map

(

analogRead

(

pot2

)

,

0

,

1023

,

50

,

1000

)

;

for

(

int

i

=

5

;

i

<

10

;

i

++

)

{

brightness

=

map

(

analogRead

(

pot1

)

,

0

,

1023

,

10

,

255

)

;

strip

.

setBrightness

(

brightness

)

;

strip

.

setPixelColor

(

i

,

strip

.

Color

(

0

,

0

,

0

)

)

;

delayval

=

map

(

analogRead

(

pot2

)

,

0

,

1023

,

50

,

1000

)

;

for

(

int

i

=

15

;

i

<

20

;

i

++

)

{

brightness

=

map

(

analogRead

(

pot1

)

,

0

,

1023

,

10

,

255

)

;

strip

.

setBrightness

(

brightness

)

;

strip

.

setPixelColor

(

i

,

strip

.

Color

(

115

,

190

,

0

)

)

;

delayval

=

map

(

analogRead

(

pot2

)

,

0

,

1023

,

50

,

1000

)

;

for

(

int

i

=

0

;

i

<

10

;

i

++

)

{

brightness

=

map

(

analogRead

(

pot1

)

,

0

,

1023

,

10

,

255

)

;

strip

.

setBrightness

(

brightness

)

;

strip

.

setPixelColor

(

i

,

strip

.

Color

(

175

,

255

,

0

)

)

;

delayval

=

map

(

analogRead

(

pot2

)

,

0

,

1023

,

50

,

1000

)

;

for

(

int

i

=

10

;

i

<

20

;

i

++

)

{

brightness

=

map

(

analogRead

(

pot1

)

,

0

,

1023

,

10

,

255

)

;

strip

.

setBrightness

(

brightness

)

;

strip

.

setPixelColor

(

i

,

strip

.

Color

(

0

,

255

,

135

)

)

;

delayval

=

map

(

analogRead

(

pot2

)

,

0

,

1023

,

50

,

1000

)

;

for

(

int

i

=

7

;

i

<

14

;

i

++

)

{

brightness

=

map

(

analogRead

(

pot1

)

,

0

,

1023

,

10

,

255

)

;

strip

.

setBrightness

(

brightness

)

;

strip

.

setPixelColor

(

i

,

strip

.

Color

(

0

,

0

,

0

)

)

;

delayval

=

map

(

analogRead

(

pot2

)

,

0

,

1023

,

50

,

1000

)

;

for

(

int

i

=

0

;

i

<

7

;

i

++

)

{

brightness

=

map

(

analogRead

(

pot1

)

,

0

,

1023

,

10

,

255

)

;

strip

.

setBrightness

(

brightness

)

;

strip

.

setPixelColor

(

i

,

strip

.

Color

(

20

,

165

,

0

)

)

;

delayval

=

map

(

analogRead

(

pot2

)

,

0

,

1023

,

50

,

1000

)

;

for

(

int

i

=

15

;

i

<

20

;

i

++

)

{

brightness

=

map

(

analogRead

(

pot1

)

,

0

,

1023

,

10

,

255

)

;

strip

.

setBrightness

(

brightness

)

;

strip

.

setPixelColor

(

i

,

strip

.

Color

(

0

,

0

,

0

)

)

;

delayval

=

map

(

analogRead

(

pot2

)

,

0

,

1023

,

50

,

1000

)

;

for

(

int

i

=

10

;

i

<

20

;

i

++

)

{

brightness

=

map

(

analogRead

(

pot1

)

,

0

,

1023

,

10

,

255

)

;

strip

.

setBrightness

(

brightness

)

;

strip

.

setPixelColor

(

i

,

strip

.

Color

(

30

,

0

,

165

)

)

;

delayval

=

map

(

analogRead

(

pot2

)

,

0

,

1023

,

50

,

1000

)

;