For this assignment we had to manipulate an image. I grabbed this image of a landscape from the internet and chose to work on it.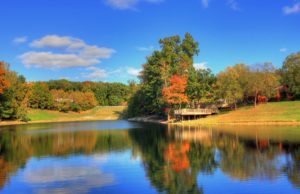 I tried many things to figure out what I wanted my image to do. I even tried playing with the P3D, and some 3D manipulation techniques. Yet, I wasn't very satisfied with how it looked. So I decided to try and manipulate the image dynamically. I used the mouseX and mouseY positions to play with my image, and stuck to using the pixels array. 
I applied a bit of a posterize filter and some amount of blur just to get the effect I wanted. What I aimed for was to be able to move the mouse around in screen and see how the image can be viewed as though we are viewing the scene in different climates. It took a while to get the numbers right, but I think this comes close to what I wanted. 
I also tried to then make some sort of pointillization on the images which would also happen dynamically with the mouseX and mouseY positions. That didn't work out too well, so I stuck to just changing the weather. 
Here's my code – 
1

2

3

4

5

6

7

8

9

10

11

12

13

14

15

16

17

18

19

20

21

22

23

24

25

26

27

28

29

30

31

32

33

34

35

36

37

38

39

40

41

42

43

44

45

img

=

loadImage

(

"scene.jpg"

)

;

//few filters for cool effects

img

.

filter

(

POSTERIZE

,

4

)

;

for

(

int

x

=

0

;

x

<

width

;

x

++

)

{

for

(

int

y

=

0

;

y

<

height

;

y

++

)

{

int

loc

=

x

+

y

*

width

;

//the famouse formula!

float

r

=

red

(

img

.

pixels

[

loc

]

)

;

float

b

=

blue

(

img

.

pixels

[

loc

]

)

;

float

g

=

green

(

img

.

pixels

[

loc

]

)

;

pixels

[

loc

]

=

color

(

r

+

mouseX

/

300

,

g

*

mouseY

/

400

,

b

*

(

mouseX

+

mouseY

)

/

500

)

;

//changes the pixels dynmically according to the mouse positions

int

x

=

(

int

)

random

(

width

)

;

int

y

=

(

int

)

random

(

height

)

;

float

r

=

red

(

pixels

[

loc

]

)

;

float

b

=

blue

(

pixels

[

loc

]

)

;

float

g

=

green

(

pixels

[

loc

]

)

;

//my attempt at pointillization

ellipse

(

x

,

y

,

point

,

point

)

;