Description
One of my favorite games when I was little on the computer was ping pong game that I played with my dad on our PC. So I created a seemingly simple ping pong game, where the paddle is controlled with a potentiometer that changes the y position of the paddle, based on potentiometer position.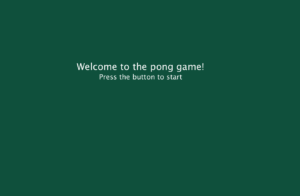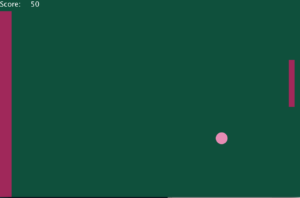 How did I do it?
It seemed like a very basic game and connecting two potentiometer shouldn't be that difficult, but in reality it took a while to figure it out, so I decided to start off with a one-player game. I initially used the simple ball bouncing program which was one of the first programs we programed on Processing. I also used previously used code for Processing to use potentiometer (input) values to do what I wanted it to do.
The Arduino code is rather short, because all the magic happens in Processing.
Code
Arduino Code
Serial

.

print

(

analogRead

(

A0

)

)

;

Serial

.

println

(

digitalRead

(

10

)

)

;
Processing Code
1

2

3

4

5

6

7

8

9

10

11

12

13

14

15

16

17

18

19

20

21

22

23

24

25

26

27

28

29

30

31

32

33

34

35

36

37

38

39

40

41

42

43

44

45

46

47

48

49

50

51

52

53

54

55

56

57

58

59

60

61

62

63

64

65

66

67

68

69

70

71

72

73

74

75

76

77

78

79

80

81

82

83

84

85

86

87

88

89

90

91

92

93

94

95

96

97

98

99

100

101

102

103

104

105

106

107

108

109

110

111

112

113

114

115

116

117

118

119

120

121

122

123

124

125

126

127

128

129

130

import

processing

.

serial

.

*

;

boolean

gameStart

=

false

;

//the game doesn't start immediately

boolean

menu

=

true

;

//will show the menue when the game is not being played

int

wallWidth

=

50

;

//the width of the left wall

int

paddleSize

=

200

;

//the size of the paddle

int

diamBall

=

50

;

//the diameter of the ball

float

x

=

random

(

wallWidth

,

width

)

,

y

=

random

(

0

,

height

)

;

//ball's initial position

float

speedX

=

4

,

speedY

=

4

;

//speed of the ball

color

ballColor

=

color

(

230

,

140

,

180

)

,

wallColor

=

color

(

160

,

40

,

90

)

;

//defining colors of the wall, paddle and ball

float

yposition

;

//the y position of the paddle

//check which ports are available

// Open the port I'll be using

myPort

=

new

Serial

(

this

,

Serial

.

list

(

)

[

2

]

,

9600

)

;

// don't generate a serialEvent() unless you get a newline character:

myPort

.

bufferUntil

(

'\n'

)

;

if

(

menu

==

true

)

{

//make the menu picture

text

(

"Welcome to the pong game!"

,

600

,

300

)

;

text

(

"Press the button to start"

,

600

,

340

)

;

ellipse

(

x

,

y

,

diamBall

,

diamBall

)

;

//draw the left wall and paddle

rect

(

0

,

0

,

wallWidth

,

height

)

;

rect

(

width

-

wallWidth

,

yposition

-

paddleSize

/

2

,

wallWidth

/

2

,

paddleSize

)

;

// if ball hits the paddle, change the X direction of the ball and add to the score

if

(

x

>

width

-

wallWidth

-

diamBall

/

2

&&

(

y

>

yposition

-

paddleSize

/

2

&&

y

<

yposition

+

paddleSize

/

2

)

)

{

// if ball hits wall, change X direction, but don't add any score

else

if

(

x

<

wallWidth

)

{

// if you lose, the game resets

x

=

random

(

wallWidth

,

width

)

;

// if ball hits the top or bottom, change the direction of Y

if

(

y

>

height

||

y

<

0

)

{

//change the yposition based on the values from the output from Arduino

void

serialEvent

(

Serial

myPort

)

{

//this is how i want to be interrupted when something happens

//read everything from the port until the new line:

String

inString

=

myPort

.

readStringUntil

(

'\n'

)

;

if

(

inString

!=

null

)

{

//check that the string is not empty

// trim off any whitespace:

inString

=

trim

(

inString

)

;

//let's trim everything that isn't character or number (e.g. space bar pressed)

float

[

]

pong

=

float

(

split

(

inString

,

","

)

)

;

println

(

yposition

)

;

//check if the yposition is correct

yposition

=

map

(

pong

[

0

]

,

0

,

1023

,

0

,

height

)

;

//adjust yposition to the screen height

//make sure that the paddle doesn't go out of the screen

if

(

yposition

-

paddleSize

/

2

<

0

)

{

yposition

=

yposition

+

paddleSize

/

2

;

if

(

yposition

+

paddleSize

/

2

>

height

)

{

yposition

=

yposition

-

paddleSize

/

2

;
Schematic