For this assignment, we had to create a game in Processing and connect it to Arduino sensors.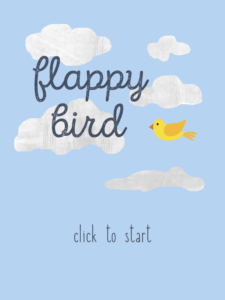 My idea was to recreate Flappy Bird and use a pushbutton to make the bird jump. Unfortunately, I couldn't figure out how to connect it, the communication code would keep crashing the game. I still don't quite understand how it should work.
I got really caught up with the game itself and playing around with the design, so I didn't have enough time left to work on the communication between Arduino and Processing. Anyway, I really appreciate Michael's help with my problem earlier today, I'll work more on it later.
I've followed KTByte "Crappy Bird" tutorial here.
I've used Adobe Photoshop to draw the interface, and I uploaded the templates online, so that you could actually run the code on your computer and see the game, too.
Here's my code:
1

2

3

4

5

6

7

8

9

10

11

12

13

14

15

16

17

18

19

20

21

22

23

24

25

26

27

28

29

30

31

32

33

34

35

36

37

38

39

40

41

42

43

44

45

46

47

48

49

50

51

52

53

54

55

56

57

58

59

60

61

62

63

64

65

66

67

68

69

70

71

72

73

74

75

76

77

78

79

80

81

82

83

84

85

86

87

88

89

90

91

92

93

94

95

96

97

// credits to KTByte tutorial https://www.youtube.com/watch?v=bV3joOueucg&t=804s

//import processing.serial.*;

//Serial myPort; // The serial port

////int xPos = 1; // horizontal position of the graph

PImage

back

=

loadImage

(

"https://i.imgur.com/JlCZlPY.png"

)

;

PImage

bird

=

loadImage

(

"https://i.imgur.com/FPaJAQU.png"

)

;

// bird illustration by http://graphiccave.com/project/yellow-bird-illustration-vector-and-png-free-download/

PImage

wall

=

loadImage

(

"https://i.imgur.com/7SMSm9N.png"

)

;

PImage

start

=

loadImage

(

"https://i.imgur.com/VRkzcHF.png"

)

;

int

[

]

wx

=

new

int

[

2

]

;

//walls

frameRate

(

40

)

;

// change to make slower or faster

//image(start, width/2, height/2);

// List all the available serial ports

// if using Processing 2.1 or later, use Serial.printArray()

//println(Serial.list());

// myPort = new Serial(this, Serial.list()[5], 9600); // port 5 for mac

// // don't generate a serialEvent() unless you get a newline character:

// //myPort.bufferUntil('\n');

void

draw

(

)

{

// runs 60 times a second

image

(

back

,

x

+

back

.

width

,

0

)

;

for

(

int

i

=

0

;

i

<

2

;

i

++

)

{

image

(

wall

,

wx

[

i

]

,

wy

[

i

]

-

(

wall

.

height

/

2

+

100

)

)

;

image

(

wall

,

wx

[

i

]

,

wy

[

i

]

+

(

wall

.

height

/

2

+

100

)

)

;

wy

[

i

]

=

(

int

)

random

(

200

,

height

-

200

)

;

highScore

=

max

(

++

score

,

highScore

)

;

if

(

y

>

height

||

y

<

0

||

(

abs

(

width

/

2

-

wx

[

i

]

)

<

25

&&

abs

(

y

-

wy

[

i

]

)

>

100

)

)

{

wx

[

i

]

-=

6

;

// moves left

text

(

""

+

score

,

width

/

2

-

15

,

700

)

;

image

(

start

,

width

/

2

,

height

/

2

)

;

text

(

"High Score: "

+

highScore

,

50

,

width

)

;

void

mousePressed

(

)

{

// click to start

//void serialEvent (Serial myPort) {

// String inString = myPort.readStringUntil('\n');

// if (inString != null) {

// inString = trim(inString);

// inByte = float(inString);

if

(

gamestate

==

1

)

{

// start of the game

x

=

gamestate

=

score

=

0

;