The game I created uses light sensors to delete moving balls on the screens. The balls are in 6 colors: red, yellow, blue, orange, purple, and green. On my Arduino, I use 3 sensors color-coded red, yellow, and blue.
If the red sensor is covered, red balls will be deleted. The same applies to the yellow and blue sensors. When the red and yellow sensors are covered at the same time, orange balls will be deleted (red + blue = purple; blue + yellow = green). 
Because I want the game to keep adding balls after some of them have been deleted, I tried to find a function that can add objects to an array, and there is actually one that does this: append(). I used this tutorial by Daniel Shiffman to learn how to use append(). On the website Learning Processing by Daniel Shiffman, there are also a lot of simple but very useful examples. It is a great resource to learn Processing. 
The difficulty that I encounter with this project is that in order to delete the balls, I change their color to white. Thus, they only disappear, not really deleted from the program. After a while, there will be too many balls on the sketch and the program will run very slowly. I have not found a way to remove certain objects from an array yet, but I thought of restarting the program after a period of time to free up memory. Thanks to Michael, I have been able to restart my game by resetting the array. However, the reset works for the about first 10 times, but after that, the reset does not make the balls disappear anymore. I have not figured out this problem yet, but I think it has something to do with the program taking up too much of my computer's memory. 
Schematics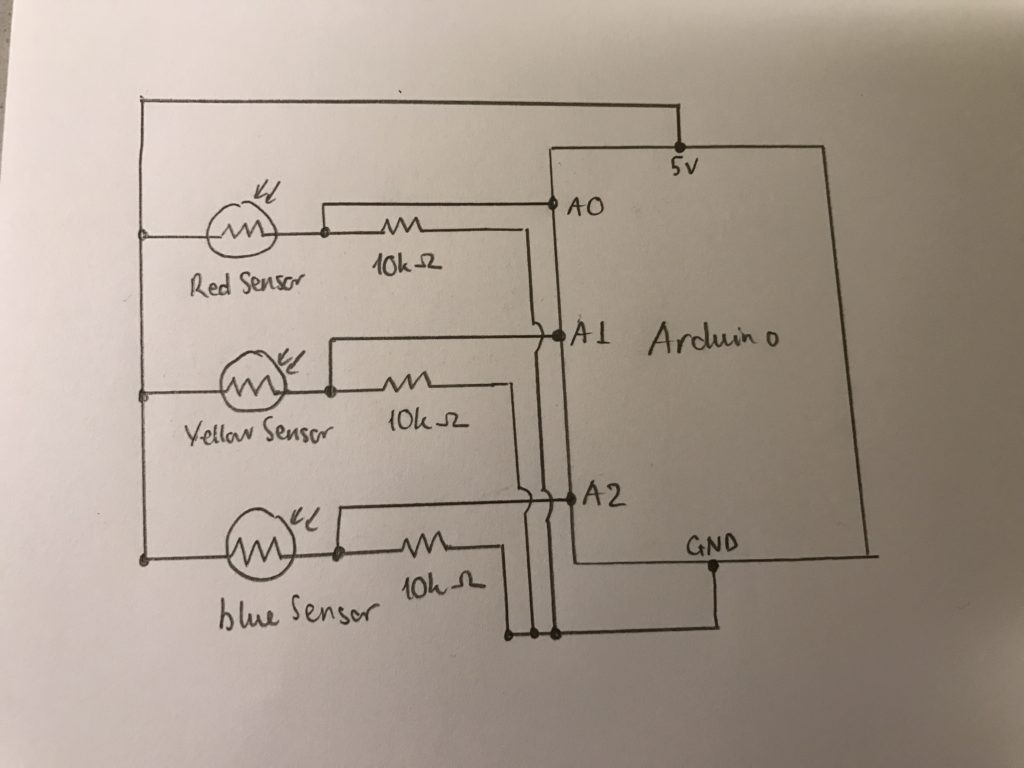 Arduino code
1

2

3

4

5

6

7

8

9

10

11

12

13

14

15

16

17

18

19

20

const

int

red

=

A0

;

//red light sensor

const

int

yellow

=

A1

;

//yellow light sensor

const

int

blue

=

A2

;

//blue light sensor

//print the values of the light sensors to the port

Serial

.

print

(

analogRead

(

red

)

)

;

Serial

.

print

(

analogRead

(

yellow

)

)

;

Serial

.

println

(

analogRead

(

blue

)

)

;
Processing code
1

2

3

4

5

6

7

8

9

10

11

12

13

14

15

16

17

18

19

20

21

22

23

24

25

26

27

28

29

30

31

32

33

34

35

36

37

38

39

40

41

42

43

44

45

46

47

48

49

50

51

52

53

54

55

56

57

58

59

60

61

62

63

64

65

66

67

68

69

70

71

72

73

74

75

76

77

78

79

80

81

82

83

84

85

86

87

88

89

90

91

92

93

94

95

96

97

98

99

100

101

102

103

104

105

106

107

108

109

110

111

112

113

114

115

116

117

118

119

120

121

122

123

124

125

126

127

128

129

130

131

132

133

134

135

136

137

138

139

140

141

142

143

144

145

146

147

148

149

150

151

152

153

154

155

156

157

158

159

160

161

162

163

164

165

166

167

168

169

170

171

172

173

174

175

176

177

178

import

processing

.

serial

.

*

;

float

redValue

=

0

;

// red sensor value

float

yellowValue

=

0

;

// green sensor value

float

blueValue

=

0

;

// blue sensor value

final

int

XSPEED

=

5

;

//speed of the moving balls

float

ballX

,

ballY

,

ballXSpeed

,

ballYSpeed

;

color

[

]

colorArray

=

new

color

[

6

]

;

Ball

(

float

xpos

,

float

ypos

)

{

ballX

=

xpos

;

//set the x and y position of the balls

ballXSpeed

=

XSPEED

;

//set the speed of the balls

//create an array of colors that has 6 colors

//so that the program can randomly choose one of 6 colors to draw a ball

for

(

int

i

=

0

;

i

<

colorArray

.

length

;

i

++

)

{

colorArray

[

0

]

=

color

(

255

,

0

,

0

)

;

//red

colorArray

[

1

]

=

color

(

255

,

255

,

0

)

;

//yellow

colorArray

[

2

]

=

color

(

0

,

0

,

255

)

;

//blue

colorArray

[

3

]

=

color

(

255

,

140

,

0

)

;

//orange

colorArray

[

4

]

=

color

(

128

,

0

,

128

)

;

//purple

colorArray

[

5

]

=

color

(

0

,

128

,

0

)

;

//green

ellipse

(

ballX

,

ballY

,

50

,

50

)

;

void

changeColor

(

)

{

//choose 1 color in the colorArray

ballColor

=

colorArray

[

(

int

)

random

(

0

,

6

)

]

;

void

changeColortoWhite

(

)

{

//change the balls' color to white, aka delete the balls

void

Sensor_delete_ball

(

)

{

if

(

redValue

<

100

&&

(

ballColor

==

colorArray

[

0

]

)

)

{

//if the red sensor is covered and the balls are red

//change the red balls to white

if

(

yellowValue

<

100

&&

(

ballColor

==

colorArray

[

1

]

)

)

{

if

(

blueValue

<

100

&&

(

ballColor

==

colorArray

[

2

]

)

)

{

if

(

redValue

<

100

&&

yellowValue

<

100

&&

(

ballColor

==

colorArray

[

3

]

)

)

{

if

(

redValue

<

100

&&

blueValue

<

100

&&

(

ballColor

==

colorArray

[

4

]

)

)

{

if

(

blueValue

<

100

&&

yellowValue

<

100

&&

(

ballColor

==

colorArray

[

5

]

)

)

{

void

update

(

)

{

//update the position of the balls

ballX

=

ballX

+

ballXSpeed

;

ballY

=

ballY

+

ballYSpeed

;

if

(

(

ballY

<

radius

)

||

(

ballY

>

(

height

-

radius

)

)

)

{

//check if the ball hits the ceiling or floor

ballYSpeed

=

-

ballYSpeed

;

if

(

(

ballX

<

radius

)

||

(

ballX

>

(

width

-

radius

)

)

)

{

//check if the ball hits the left or right wall

ballXSpeed

=

-

ballXSpeed

;

Ball

[

]

balls

=

new

Ball

[

10

]

;

long

previous_time_since_reset

=

0

;

myPort

=

new

Serial

(

this

,

Serial

.

list

(

)

[

2

]

,

9600

)

;

myPort

.

bufferUntil

(

'\n'

)

;

void

createFirst10Balls

(

)

{

for

(

int

b

=

0

;

b

<

balls

.

length

;

b

++

)

{

balls

[

b

]

=

new

Ball

(

random

(

50

,

width

-

50

)

,

random

(

50

,

height

-

50

)

)

;

for

(

int

b

=

0

;

b

<

balls

.

length

;

b

++

)

{

long

currentMillis

=

millis

(

)

;

if

(

(

currentMillis

-

previousMillis

)

>=

interval

)

{

//every interval, one ball is added

//every 5 seconds, one ball is added. The balls are added more and more quickly

previousMillis

=

currentMillis

;

Ball

ball1

=

new

Ball

(

random

(

100

,

width

)

,

random

(

100

,

height

)

)

;

ball1

.

changeColor

(

)

;

//has to be put here so that the new balls can have color

balls

=

(

Ball

[

]

)

append

(

balls

,

ball1

)

;

for

(

int

b

=

0

;

b

<

balls

.

length

;

b

++

)

{

balls

[

b

]

.

checkCollision

(

)

;

balls

[

b

]

.

Sensor_delete_ball

(

)

;

interval

-=

5

;

//change how quickly balls are added

if

(

(

millis

(

)

-

previous_time_since_reset

)

>=

20000

)

{

//if 20 seconds has passed, reset the array to 10 objects

previous_time_since_reset

=

millis

(

)

;

println

(

"resetting array"

)

;

Ball

[

]

balls

=

new

Ball

[

10

]

;

interval

=

5000

;

//reset the interval too so that the game can start all over again

void

serialEvent

(

Serial

myPort

)

{

String

inString

=

myPort

.

readStringUntil

(

'\n'

)

;

// trim off any whitespace:

inString

=

trim

(

inString

)

;

// split the string on the commas and convert the resulting substrings

float

[

]

sensorValue

=

float

(

split

(

inString

,

","

)

)

;

if

(

sensorValue

.

length

>=

3

)

{

//designate the values in the sensorValue array to redValue, yellowValue, blueValue:

redValue

=

sensorValue

[

0

]

;

yellowValue

=

sensorValue

[

1

]

;

blueValue

=

sensorValue

[

2

]

;