Foreword:
For this project, we had to create a piece of computer art. Mine is a symmetrical design that starts as a circle in the middle of the canvas and grows to create a design surrounded by ellipses and other graphics. It is an animation, so it is worth checking out how the designs build up. I was not sure about which final design I liked better, so I will post both projects with their respective code. Let me know which one do you like better!
Problems/curiosities:
Depending on the strokeWeight you use, you can see how the animation starts building up until you can see all the shapes. Also, it is really interesting to work with the frameCount by multiplying it to see how it affects the repetition of the designs. 
Check these out to learn more about it:
https://processing.org/reference/frameCount.html
Pictures: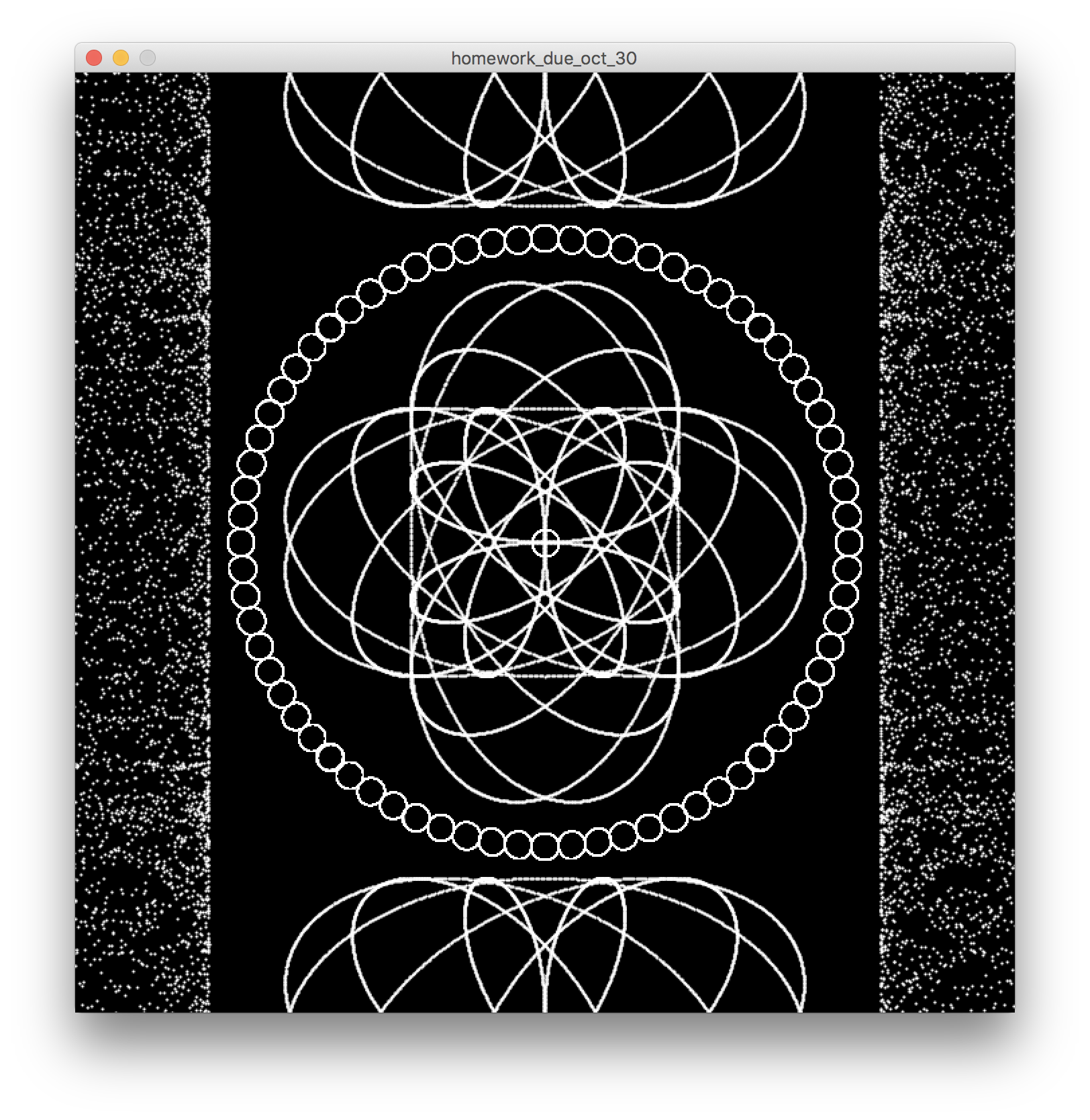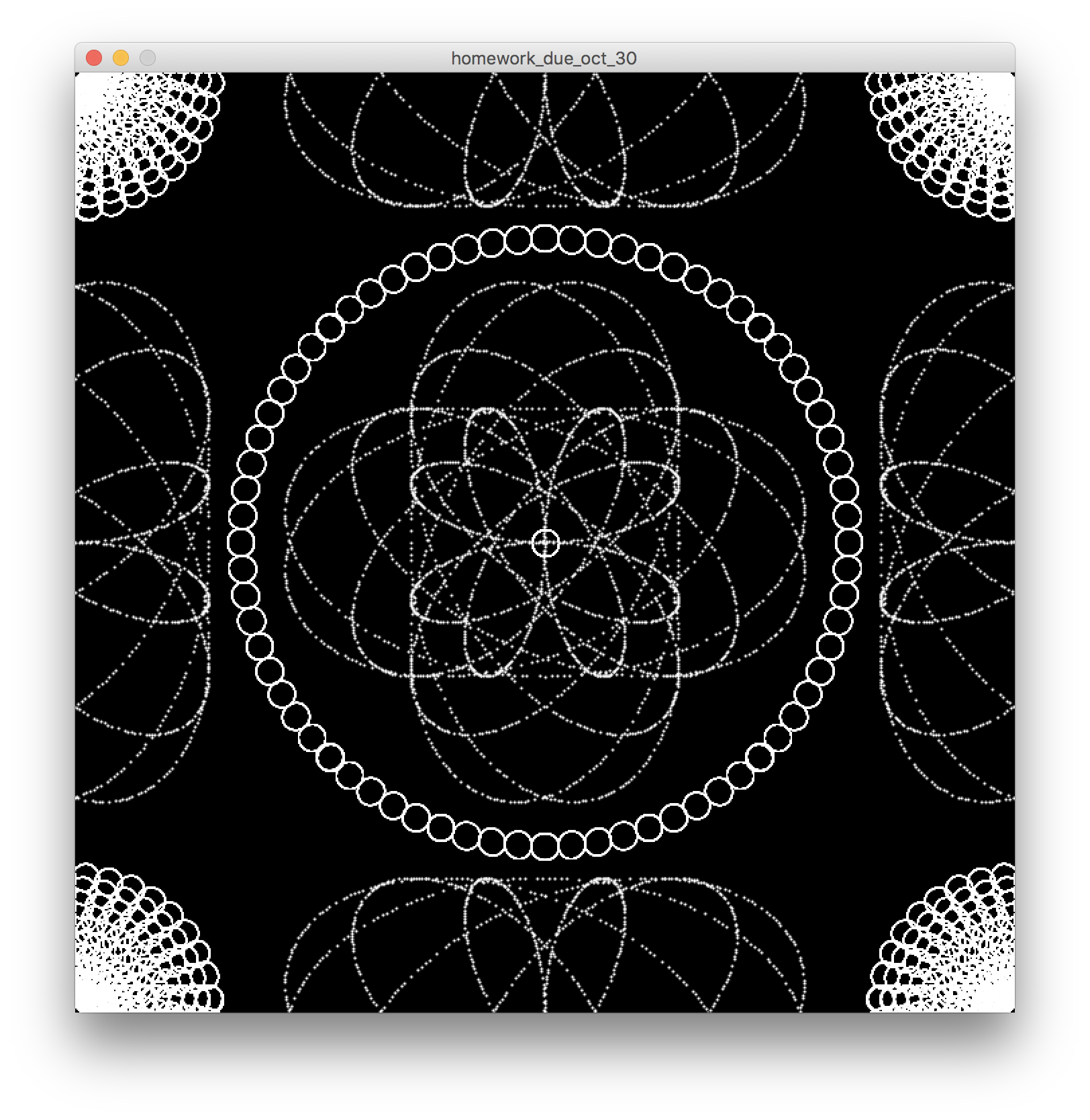 Code:
First animation:
1

2

3

4

5

6

7

8

9

10

11

12

13

14

15

16

17

18

19

20

21

22

23

24

25

26

27

28

29

30

31

32

33

34

35

36

37

38

39

40

41

42

43

44

45

46

47

48

49

50

51

52

53

54

55

56

57

58

59

60

61

62

63

64

65

66

67

68

69

70

71

72

73

74

75

76

77

78

79

80

81

82

83

84

85

86

87

88

89

90

91

92

93

94

95

96

97

98

99

100

101

102

103

104

translate

(

width

/

2

,

height

/

2

)

;

translate

(

width

/

2

,

height

/

2

)

;

translate

(

height

/

2

,

width

/

2

)

;

translate

(

width

/

2

,

height

/

2

)

;

rotate

(

radians

(

frameCount

*

25

)

)

;

ellipse

(

160

,

160

,

20

,

20

)

;

return

sin

(

t

/

10

)

*

100

+

sin

(

t

/

14

)

*

100

;

return

sin

(

t

/

10

)

*

100

+

sin

(

t

/

14

)

*

100

;

return

sin

(

t

/

10

)

*

100

+

sin

(

t

/

14

)

*

100

;

return

sin

(

t

/

8

)

*

100

+

sin

(

t

/

21

)

*

300

;
Second animation
1

2

3

4

5

6

7

8

9

10

11

12

13

14

15

16

17

18

19

20

21

22

23

24

25

26

27

28

29

30

31

32

33

34

35

36

37

38

39

40

41

42

43

44

45

46

47

48

49

50

51

52

53

54

55

56

57

58

59

60

61

62

63

64

65

66

67

68

69

70

71

72

73

74

75

76

77

78

79

80

81

82

83

84

85

86

87

88

89

90

91

92

93

94

95

96

97

98

99

100

101

102

103

104

105

106

107

108

109

110

111

112

113

114

115

116

117

118

119

120

121

122

123

124

125

126

127

128

129

130

131

132

133

134

135

136

137

138

139

140

141

142

143

144

145

146

147

148

149

150

151

152

153

154

155

156

157

158

159

160

161

translate

(

width

/

2

,

height

/

2

)

;

translate

(

width

/

2

,

height

/

2

)

;

translate

(

height

/

2

,

width

/

2

)

;

translate

(

width

/

2

,

height

/

2

)

;

rotate

(

radians

(

frameCount

*

25

)

)

;

ellipse

(

160

,

160

,

20

,

20

)

;

rotate

(

radians

(

frameCount

*

10

)

)

;

ellipse

(

10

,

100

,

20

,

20

)

;

rotate

(

radians

(

frameCount

*

10

)

)

;

ellipse

(

-

10

,

100

,

20

,

20

)

;

ellipse

(

-

10

,

90

,

20

,

20

)

;

ellipse

(

-

10

,

80

,

20

,

20

)

;

ellipse

(

-

10

,

70

,

20

,

20

)

;

ellipse

(

-

10

,

60

,

20

,

20

)

;

ellipse

(

-

10

,

50

,

20

,

20

)

;

ellipse

(

-

10

,

40

,

20

,

20

)

;

ellipse

(

-

10

,

30

,

20

,

20

)

;

ellipse

(

-

10

,

20

,

20

,

20

)

;

ellipse

(

-

10

,

10

,

20

,

20

)

;

rotate

(

radians

(

frameCount

*

10

)

)

;

ellipse

(

10

,

100

,

20

,

20

)

;

rotate

(

radians

(

frameCount

*

10

)

)

;

ellipse

(

-

10

,

100

,

20

,

20

)

;

ellipse

(

-

10

,

90

,

20

,

20

)

;

ellipse

(

-

10

,

80

,

20

,

20

)

;

ellipse

(

-

10

,

70

,

20

,

20

)

;

ellipse

(

-

10

,

60

,

20

,

20

)

;

ellipse

(

-

10

,

50

,

20

,

20

)

;

ellipse

(

-

10

,

40

,

20

,

20

)

;

ellipse

(

-

10

,

30

,

20

,

20

)

;

ellipse

(

-

10

,

20

,

20

,

20

)

;

ellipse

(

-

10

,

10

,

20

,

20

)

;

return

sin

(

t

/

10

)

*

100

+

sin

(

t

/

14

)

*

100

;

return

sin

(

t

/

10

)

*

100

+

sin

(

t

/

14

)

*

100

;