For this assignment, my inspiration comes from a project in Computer Arts (issue August 2017). Here is the link to the project. In this work, they use lines to connect the points in the grid so that they can draw something. 
In my work, I draw 4 squares, then points inside of them, then random lines that connect 2 points in each square. Here is the result.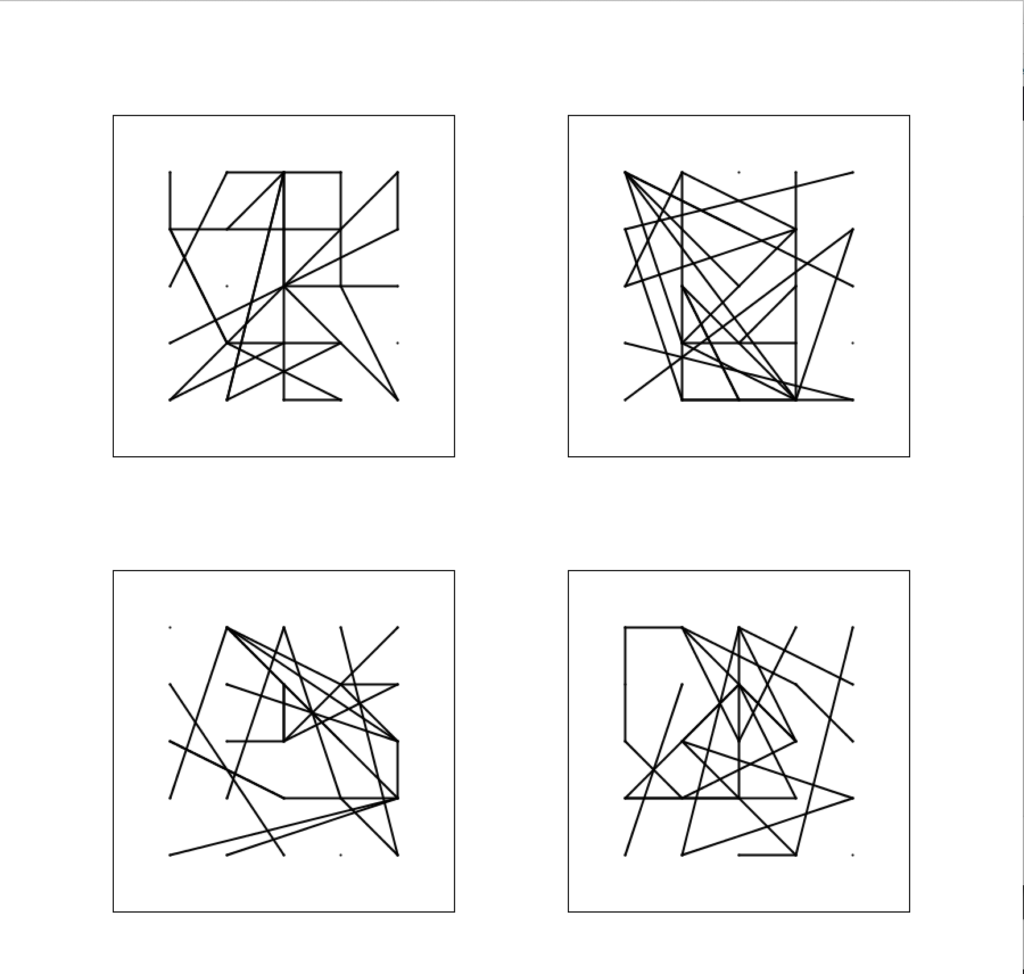 Throughout the process of creating art piece,  I found myself struggling with how to create a parameter, or a set of values that random() can choose from. Usually we use random() to pick out values from a continuous set of values. For example: random(0,255) pick out any value from 0 to 254. However, in my case the points in are not right next to each other, thus in order to draw random lines between them, I have to create a set of values of the x and y coordinates of points in a particular square, then use that set to draw the lines. To do this, I use Arrays to store x and y values from points in each square. 
I also discovered that for example, random(0,255) picks out values from 0 up to, but not including, 255. I did not know this before, so when I pick random numbers out of my array, which has 6 values, numbered from 0 to 5, I wrote my code as numbers_xposPoint[ (int) random (1,5)] and created the error Array Index Out Of Bounds Exception , which made Processing stop responding and my computer crash.
CODE
1

2

3

4

5

6

7

8

9

10

11

12

13

14

15

16

17

18

19

20

21

22

23

24

25

26

27

28

29

30

31

32

33

34

35

36

37

38

39

40

41

42

43

44

45

46

47

48

49

50

51

52

53

54

55

56

57

58

59

60

61

62

63

64

65

66

67

68

69

70

71

72

73

74

75

76

77

78

79

80

81

82

83

84

85

86

87

88

89

90

91

92

93

94

95

96

97

98

99

100

/* This program draw 4 squares with points inside to create 4 grids

then in each grid, random lines are drawn from one point to another

Inspired by: Ellie Veale, Katy Everette, and Jack Harness's work in

the Degree Show Identity - Camberwell College of Arts

https://www.katyeverett.co.uk/camberwell-degree-show-2017

//create the class to draw the squares and points, in other words, the grid

//xposGrid, yposGrid: x and y position of a square

//sizeGrid: width and height of a square

//xposPoint, yposPoint: x and y coordinates of a point

//x1, y1, x2, y2: coordinates of a line

float

xposGrid

,

yposGrid

,

sizeGrid

,

xposPoint

,

yposPoint

,

x1

,

y1

,

x2

,

y2

;

//create an array for the possible x and y values of points in a square, so that line() can use these values to draw lines

float

[

]

numbers_xposPoint

=

new

float

[

6

]

;

//there are 6 values in this array because in addition to 5 dots in 1 row/column,

float

[

]

numbers_yposPoint

=

new

float

[

6

]

;

// the [0] value is set to the x or y position of a square, at which coordinates,

Grid

(

float

xposGrid_temp

,

float

yposGrid_temp

)

{

xposGrid

=

xposGrid_temp

;

yposGrid

=

yposGrid_temp

;

xposPoint

=

xposGrid

+

50

;

//x-coordinate of the first point in a square

yposPoint

=

yposGrid

+

50

;

//y-coordinate of the first point in a square

//create an array for the possible x and y values of points in a square, so that line() can use these values to draw lines

numbers_xposPoint

[

0

]

=

xposGrid

;

//the numbers_xposPoint[0] value is set to the x position of a square, only as a start to calculate the next point

for

(

int

i

=

1

;

i

<

6

;

i

++

)

{

numbers_xposPoint

[

i

]

=

numbers_xposPoint

[

i

-

1

]

+

50

;

//a value in the array is equal to the previous value plus 50

numbers_yposPoint

[

0

]

=

yposGrid

;

//same for y values

for

(

int

i

=

1

;

i

<

6

;

i

++

)

{

numbers_yposPoint

[

i

]

=

numbers_yposPoint

[

i

-

1

]

+

50

;

void

drawFrame

(

)

{

//draw the squares

rect

(

xposGrid

,

yposGrid

,

sizeGrid

,

sizeGrid

)

;

void

drawGrid

(

)

{

//draw the points inside the squares to create grids

point

(

xposPoint

,

yposPoint

)

;

void

updatePoint

(

)

{

//update the coordinates of the points in 1 square

yposPoint

=

yposPoint

+

50

;

//draw the points in the first column

if

(

yposPoint

==

yposGrid

+

300

)

{

//if the first column is completed (i.e y-coordinate of the point = y position of square + 300

xposPoint

=

xposPoint

+

50

;

//don't draw the point at that y coordinate, but move to the next column

yposPoint

=

yposGrid

+

50

;

//restart y-coordinates for the next column

if

(

xposPoint

==

xposGrid

+

300

)

{

//if the grid is finished, stop drawing

noLoop

(

)

;

//there are 25 points in 1 grid, so only 25 lines are drawn in each grid

void

drawLines

(

)

{

//draw random lines connecting the points inside a square

x1

=

numbers_xposPoint

[

(

int

)

random

(

1

,

6

)

]

;

//randomly pick out x and y coordinates in the array created above to draw lines

x2

=

numbers_xposPoint

[

(

int

)

random

(

1

,

6

)

]

;

y1

=

numbers_yposPoint

[

(

int

)

random

(

1

,

6

)

]

;

y2

=

numbers_yposPoint

[

(

int

)

random

(

1

,

6

)

]

;

Grid

[

]

mygrids

=

new

Grid

[

4

]

;

// draw 4 objects in the Grid class

for

(

int

i

=

0

;

i

<

mygrids

.

length

;

i

++

)

{

//designate x and y position for each square

mygrids

[

0

]

=

new

Grid

(

100

,

100

)

;

mygrids

[

1

]

=

new

Grid

(

500

,

100

)

;

mygrids

[

2

]

=

new

Grid

(

100

,

500

)

;

mygrids

[

3

]

=

new

Grid

(

500

,

500

)

;

for

(

int

i

=

0

;

i

<

mygrids

.

length

;

i

++

)

{

mygrids

[

i

]

.

drawFrame

(

)

;

//draw squares

for

(

int

i

=

0

;

i

<

mygrids

.

length

;

i

++

)

{

mygrids

[

i

]

.

drawGrid

(

)

;

//draw points inside squares

mygrids

[

i

]

.

updatePoint

(

)

;

//update coordinates of the points

mygrids

[

i

]

.

drawLines

(

)

;

//draw random lines inside the squares
In addition to this most basic version, I also created some variations of it:
Variation 1: 
The program does not stop drawing at 25 lines each square, but continues to draw. Each time you press 'c', the new lines change to another color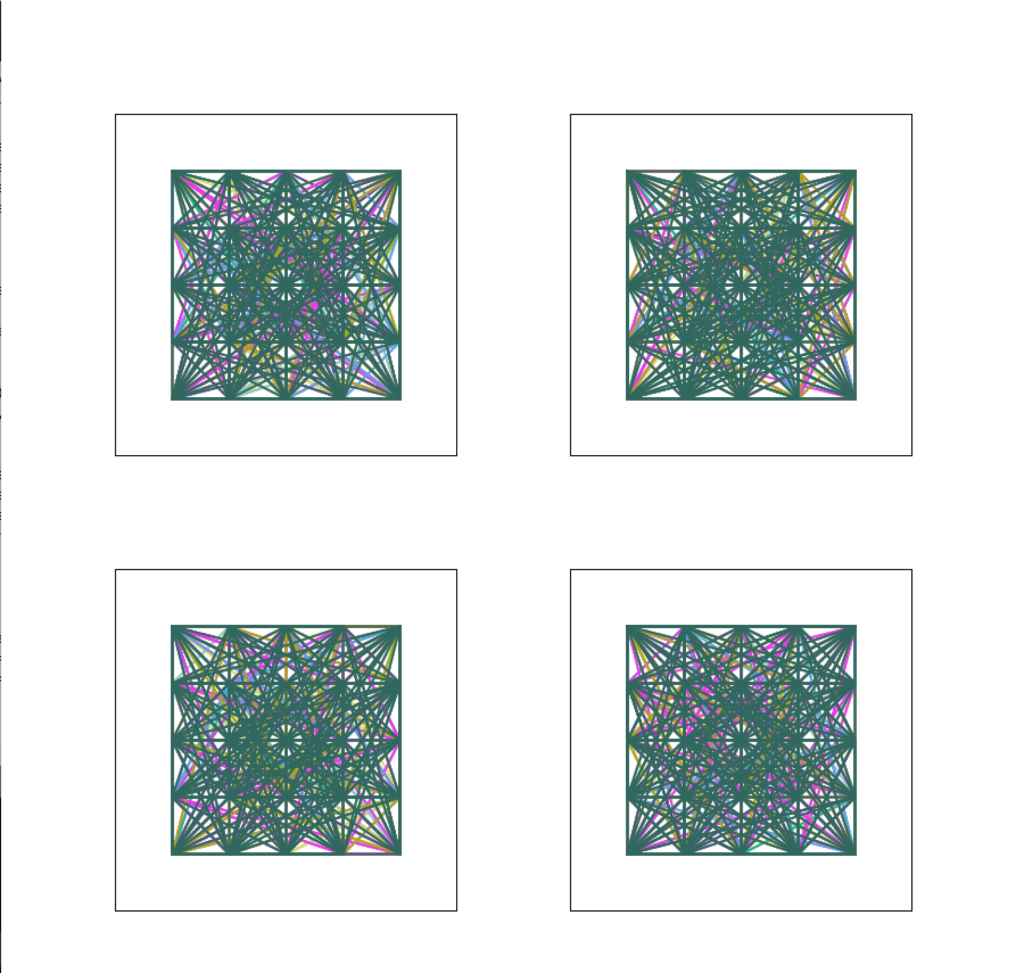 1

2

3

4

5

6

7

8

9

10

11

12

13

14

15

16

17

18

19

20

21

22

23

24

25

26

27

28

29

30

31

32

33

34

35

36

37

38

39

40

41

42

43

44

45

46

47

48

49

50

51

52

53

54

55

56

57

58

59

60

61

62

63

64

65

66

67

68

69

70

71

72

73

74

75

76

77

78

79

80

81

82

83

84

85

86

87

88

89

90

91

92

93

94

95

96

97

//create a color that takes in random values

color

mycolor

=

color

(

random

(

0

,

255

)

,

random

(

0

,

255

)

,

random

(

0

,

255

)

)

;

float

xposGrid

,

yposGrid

,

sizeGrid

,

xposPoint

,

yposPoint

,

x1

,

y1

,

x2

,

y2

;

//create an array for the possible x and y values of points in a square, so that line() can use these values to draw lines

float

[

]

numbers_xposPoint

=

new

float

[

6

]

;

float

[

]

numbers_yposPoint

=

new

float

[

6

]

;

Grid

(

float

xposGrid_temp

,

float

yposGrid_temp

)

{

xposGrid

=

xposGrid_temp

;

yposGrid

=

yposGrid_temp

;

xposPoint

=

xposGrid

+

50

;

yposPoint

=

yposGrid

+

50

;

//create an array for the possible x and y values of points in a square, so that line() can use these values to draw lines

numbers_xposPoint

[

0

]

=

xposGrid

;

for

(

int

i

=

1

;

i

<

6

;

i

++

)

{

numbers_xposPoint

[

i

]

=

numbers_xposPoint

[

i

-

1

]

+

50

;

numbers_yposPoint

[

0

]

=

yposGrid

;

for

(

int

i

=

1

;

i

<

6

;

i

++

)

{

numbers_yposPoint

[

i

]

=

numbers_yposPoint

[

i

-

1

]

+

50

;

void

drawFrame

(

)

{

//draw the squares

rect

(

xposGrid

,

yposGrid

,

sizeGrid

,

sizeGrid

)

;

void

drawGrid

(

)

{

//draw the points inside the squares to create grids

point

(

xposPoint

,

yposPoint

)

;

void

updatePoint

(

)

{

//update the coordinates of the points in 1 square

yposPoint

=

yposPoint

+

50

;

if

(

yposPoint

==

yposGrid

+

300

)

{

xposPoint

=

xposPoint

+

50

;

yposPoint

=

yposGrid

+

50

;

if

(

xposPoint

==

xposGrid

+

300

)

{

xposPoint

=

xposGrid

+

50

;

//***returning x and y values to their original values so that no points will be drawn outside of the squares

yposPoint

=

yposGrid

+

50

;

void

drawLines

(

)

{

//draw random lines connecting the points inside a square

x1

=

numbers_xposPoint

[

(

int

)

random

(

1

,

6

)

]

;

//randomly pick out x and y coordinates in the array created above to draw lines

x2

=

numbers_xposPoint

[

(

int

)

random

(

1

,

6

)

]

;

y1

=

numbers_yposPoint

[

(

int

)

random

(

1

,

6

)

]

;

y2

=

numbers_yposPoint

[

(

int

)

random

(

1

,

6

)

]

;

Grid

[

]

mygrids

=

new

Grid

[

4

]

;

// draw 4 objects in the Grid class

for

(

int

i

=

0

;

i

<

mygrids

.

length

;

i

++

)

{

//designate x and y position for each square

mygrids

[

0

]

=

new

Grid

(

100

,

100

)

;

mygrids

[

1

]

=

new

Grid

(

500

,

100

)

;

mygrids

[

2

]

=

new

Grid

(

100

,

500

)

;

mygrids

[

3

]

=

new

Grid

(

500

,

500

)

;

for

(

int

i

=

0

;

i

<

mygrids

.

length

;

i

++

)

{

mygrids

[

i

]

.

drawFrame

(

)

;

//draw squares

stroke

(

mycolor

)

;

//***change stroke color

for

(

int

i

=

0

;

i

<

mygrids

.

length

;

i

++

)

{

mygrids

[

i

]

.

drawGrid

(

)

;

//draw points inside squares

mygrids

[

i

]

.

updatePoint

(

)

;

//update coordinates of the points

mygrids

[

i

]

.

drawLines

(

)

;

//draw random lines inside the squares

//keyPressed(); //lines keep changing color

void

keyPressed

(

)

{

//if 'c' is pressed, the lines change their colors

mycolor

=

color

(

random

(

0

,

255

)

,

random

(

0

,

255

)

,

random

(

0

,

255

)

)

;
Variation 2: 
Instead of 4 squares, there are 400 squares. This time I have to use calculations to create x and y positions of the squares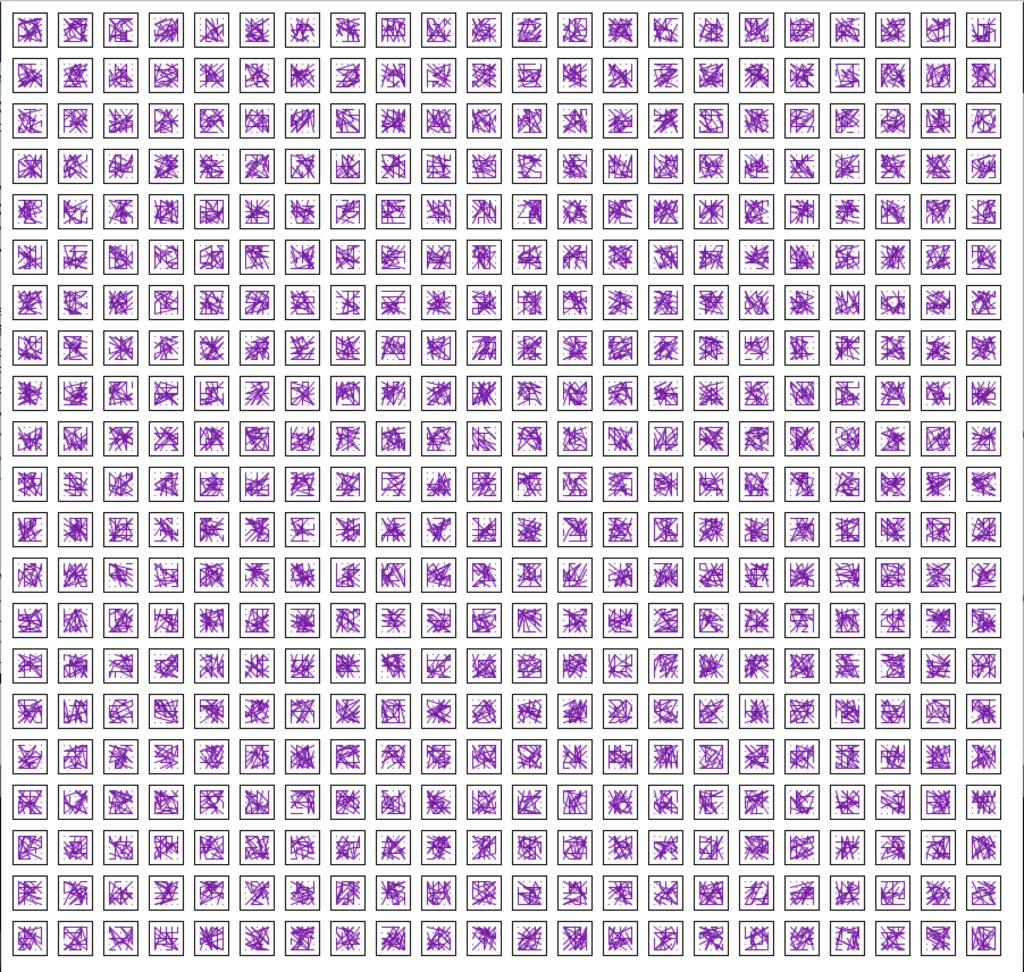 1

2

3

4

5

6

7

8

9

10

11

12

13

14

15

16

17

18

19

20

21

22

23

24

25

26

27

28

29

30

31

32

33

34

35

36

37

38

39

40

41

42

43

44

45

46

47

48

49

50

51

52

53

54

55

56

57

58

59

60

61

62

63

64

65

66

67

68

69

70

71

72

73

74

75

76

77

78

79

80

81

82

83

84

85

86

87

88

89

90

91

92

93

94

95

96

97

color

mycolor

=

color

(

random

(

0

,

255

)

,

random

(

0

,

255

)

,

random

(

0

,

255

)

)

;

float

xposGrid

,

yposGrid

,

sizeGrid

,

xposPoint

,

yposPoint

,

x1

,

y1

,

x2

,

y2

;

float

[

]

numbers_xposPoint

=

new

float

[

6

]

;

float

[

]

numbers_yposPoint

=

new

float

[

6

]

;

Grid

(

float

xposGrid_temp

,

float

yposGrid_temp

)

{

xposGrid

=

xposGrid_temp

;

yposGrid

=

yposGrid_temp

;

xposPoint

=

xposGrid

+

5

;

yposPoint

=

yposGrid

+

5

;

numbers_xposPoint

[

0

]

=

xposGrid

;

for

(

int

i

=

1

;

i

<

6

;

i

++

)

{

numbers_xposPoint

[

i

]

=

numbers_xposPoint

[

i

-

1

]

+

5

;

numbers_yposPoint

[

0

]

=

yposGrid

;

//same for y values

for

(

int

i

=

1

;

i

<

6

;

i

++

)

{

numbers_yposPoint

[

i

]

=

numbers_yposPoint

[

i

-

1

]

+

5

;

rect

(

xposGrid

,

yposGrid

,

sizeGrid

,

sizeGrid

)

;

point

(

xposPoint

,

yposPoint

)

;

yposPoint

=

yposPoint

+

5

;

if

(

yposPoint

==

yposGrid

+

30

)

{

xposPoint

=

xposPoint

+

5

;

yposPoint

=

yposGrid

+

5

;

if

(

xposPoint

==

xposGrid

+

30

)

{

//xposPoint = xposGrid + 5; //***returning x and y values to their original values so that no points will be drawn outside of the squares

//yposPoint = yposGrid + 5;

noLoop

(

)

;

//if you want to continue to draw lines and change their color, delete this line, and comment in the previous 2 lines

x1

=

numbers_xposPoint

[

(

int

)

random

(

1

,

6

)

]

;

//randomly pick out x and y coordinates in the array created above to draw lines

x2

=

numbers_xposPoint

[

(

int

)

random

(

1

,

6

)

]

;

y1

=

numbers_yposPoint

[

(

int

)

random

(

1

,

6

)

]

;

y2

=

numbers_yposPoint

[

(

int

)

random

(

1

,

6

)

]

;

Grid

[

]

mygrids

=

new

Grid

[

462

]

;

keyPressed

(

)

;

//***all lines change to a different color when 'c' is pressed

//there are more grids so I use calculations to create x and y positions of the squares

for

(

int

i

=

0

;

i

<

mygrids

.

length

;

i

++

)

{

mygrids

[

i

]

=

new

Grid

(

X_pos_Grid

,

Y_pos_Grid

)

;

Y_pos_Grid

=

Y_pos_Grid

+

40

;

if

(

Y_pos_Grid

==

850

)

{

X_pos_Grid

=

X_pos_Grid

+

40

;

for

(

int

i

=

0

;

i

<

mygrids

.

length

;

i

++

)

{

for

(

int

i

=

0

;

i

<

mygrids

.

length

;

i

++

)

{

mygrids

[

i

]

.

updatePoint

(

)

;

mycolor

=

color

(

random

(

0

,

255

)

,

random

(

0

,

255

)

,

random

(

0

,

255

)

)

;