For this assignment, I created a monochrome design using different shapes, colors, loops, etc. The image is shown below: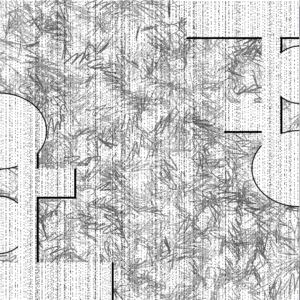 I was inspired from multiple mages from this website.  A couple of the images I used to create some of the layers are shown below: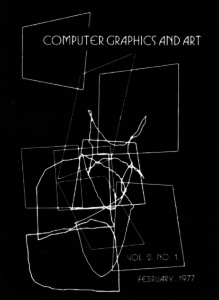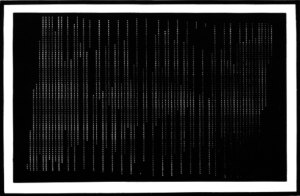 The one to the left gave me the idea for creating different shaped bezier curves and the image to the right gave me the idea for the small slightly rotated black rectangles in the background. The white block shapes were just a attempt to allow that pattern to show a little mor than if the whole image was covered in the curved lines. 
The code is shown below: 
1

2

3

4

5

6

7

8

9

10

11

12

13

14

15

16

17

18

19

20

21

22

23

24

25

26

27

28

29

30

31

32

33

34

35

36

37

38

39

40

41

42

43

44

45

46

47

48

49

50

51

52

53

54

55

56

57

58

59

60

61

62

63

64

65

66

67

68

69

70

71

72

73

74

75

76

77

78

79

80

81

82

83

84

85

86

87

88

89

90

91

92

93

94

95

96

97

98

99

void

smallRect

(

int

x

,

int

y

)

// function for drawing the small black rectangles

translate

(

x

,

y

)

;

// variables x and y to change the location of the rectangles

rotate

(

radians

(

(

int

(

random

(

0

,

45

)

)

)

)

)

;

// rotate the rectanges at random angles between 0 and 45 degrees

rect

(

0

,

0

,

1

,

2

)

;

// draw the small rectangle

void

curves1

(

int

x

,

int

y

)

//function for drawing longer bezier curves

pushMatrix

(

)

;

//start compiling the data for graph translations and rotations on a matrix

strokeWeight

(

(

random

(

0

,

3

)

)

)

;

//choose a random line width from 0-3

stroke

(

int

(

random

(

100

,

200

)

)

)

;

//choose a random shade of gray

translate

(

x

,

y

)

;

// variables x and y to change the location of the curves

rotate

(

radians

(

(

int

(

random

(

0

,

360

)

)

)

)

)

;

// rotate the curves at random angles between 0 and 360 degrees

beginShape

(

)

;

//start drawing the curve

vertex

(

0

,

0

)

;

// first point

bezierVertex

(

0

,

0

,

int

(

random

(

50

,

100

)

)

,

int

(

random

(

50

,

100

)

)

,

0

,

20

)

;

//different vertext points, different curves

bezierVertex

(

0

,

20

,

int

(

random

(

50

,

100

)

)

,

int

(

random

(

50

,

100

)

)

,

5

,

40

)

;

bezierVertex

(

5

,

40

,

int

(

random

(

50

,

100

)

)

,

int

(

random

(

50

,

100

)

)

,

20

,

60

)

;

bezierVertex

(

20

,

40

,

int

(

random

(

50

,

100

)

)

,

int

(

random

(

50

,

100

)

)

,

40

,

80

)

;

endShape

(

)

;

//stop drawing the curve

popMatrix

(

)

;

//clear the matrix

void

curves2

(

int

x

,

int

y

)

//function for short bezier curves

strokeWeight

(

(

random

(

0

,

3

)

)

)

;

stroke

(

int

(

random

(

90

,

200

)

)

)

;

rotate

(

radians

(

(

int

(

random

(

0

,

360

)

)

)

)

)

;

vertex

(

0

,

0

)

;

// first point

bezierVertex

(

0

,

0

,

int

(

random

(

20

,

70

)

)

,

int

(

random

(

50

,

100

)

)

,

0

,

10

)

;

//same as the longer bezier curves but with less vertext points

bezierVertex

(

0

,

10

,

int

(

random

(

20

,

70

)

)

,

int

(

random

(

50

,

100

)

)

,

5

,

20

)

;

for

(

int

i

=

0

;

i

<

800

;

i

=

i

+

(

int

(

random

(

10

,

50

)

)

)

)

{

//draw the small bezier curves with random spacing between 10-50 pixels on both x and y vertices

for

(

int

j

=

0

;

j

<

800

;

j

=

j

+

(

int

(

random

(

10

,

50

)

)

)

)

{

for

(

int

i

=

0

;

i

<

800

;

i

=

i

+

(

int

(

random

(

20

,

80

)

)

)

)

{

//draw the longer bezier curves with random spacing between 10-50 pixels on both x and y vertices

for

(

int

j

=

0

;

j

<

800

;

j

=

j

+

(

int

(

random

(

20

,

80

)

)

)

)

{

rect

(

0

,

700

,

305

,

105

)

;

// LEFT SIDE: draw black rectangles and circles to be shadows for the white shapes

ellipse

(

0

,

350

,

255

,

205

)

;

ellipse

(

0

,

600

,

155

,

155

)

;

rect

(

500

,

0

,

305

,

105

)

;

// RIGHT SIDE: same shapes

ellipse

(

800

,

450

,

255

,

205

)

;

ellipse

(

800

,

200

,

155

,

155

)

;

rect

(

0

,

700

,

300

,

100

)

;

//LEFT SIDE: same shapes as above ut in white

ellipse

(

0

,

350

,

250

,

200

)

;

ellipse

(

0

,

600

,

150

,

150

)

;

rect

(

500

,

0

,

300

,

100

)

;

///RIGHT SIDE

ellipse

(

800

,

450

,

250

,

200

)

;

ellipse

(

800

,

200

,

150

,

150

)

;

for

(

int

i

=

5

;

i

<

900

;

i

=

i

+

(

int

(

random

(

0

,

10

)

)

)

)

{

//draw the small rectangles with random very small spacing between pixels on both x and y vertices

for

(

int

j

=

5

;

j

<

900

;

j

=

j

+

(

int

(

random

(

0

,

10

)

)

)

)

{